Google+ users who favor the Chrome browser have an entire set of online editing tools waiting for them. To experiment with what looks like Snapseed for the Web, I opened up this wonderful image by photographer Kitty Gallannaugh. Beautiful pictures are just more fun.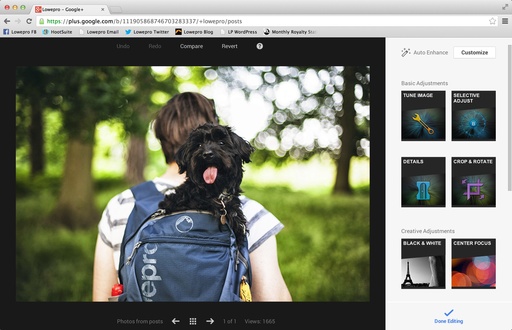 To get started, open your image in Google+ and click on the Edit link at the top of the page. A new column appears on the right with Snapseed like icons. The tools range from basic image adjustments to frames and tilt-shift effects. The effects are shown in realtime. You can apply the look you want, or cancel and move on to another set of tools.
At the top of the window you have four additional controls: Undo, Redo, Compare, and Revert. So you're in complete control of the appearance of your photograph. Once you have the image adjusted to your liking, click the Done Editing link at the bottom of the page.
If your image has been shared with others on Google+, the changes you make will be applied to those pictures too. That's pretty wild, when you think about it.
This capability works nicely in a mobile workflow. You can get your images posted quickly in the field to the best of your ability. Then, if you decide later that you want to adjust it while reviewing on your computer, you can do so without having to upload another version. You will need Google Chrome to access the tools.
BTW: This image by Kitty Gallannaugh remains in its original state. Some things you just don't mess with.
Want to Comment on this Post?
You can share your thoughts at the TDS Facebook page, where I'll post this story for discussion.
---
PhotoHelpDesk.com is a down-to-earth resource for curious minded photographers. Submit your questions, and we'll post an answer.