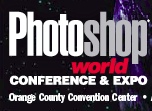 I'm heading out to Photoshop World this week, and I should have lots to report.
First, I'll be recording interviews in the O'Reilly Media booth with some great photographers including: John Paul Caponigro, Vincent Versace, and Stephen Johnson. I'm also going to chat with Mikkel Aaland live from Tasmania via AIM as he reports on the Lightroom Adventure II from way down under.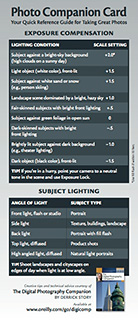 During my stay in Orlando, I'll also promote my new book, The Digital Photography Companion. O'Reilly Media, the publisher, is giving away Photo Companion Cards that I designed, which include tables for exposure compensation, lighting, white balance settings (with Kelvin), and an "After Every Shoot" checklist. The cards look just like the tables in the back of Companion, so if your attending Photoshop World, be sure to come by the O'Reilly booth and get your hands on one. Can't wait to grab a few myself.
If anything hot catches my attention while I'm in Orlando, I'll post here about it. Otherwise, stay tuned for some terrific audio interviews coming your way.
---

Events! See the TDS Event Calendar for photography workshops, speaking engagements, and trade show appearances, including my Beginning Workflow with Adobe Photoshop and Lightroom on June 22-28, 2008 in Sante Fe, New Mexico.
---
Technorati Tags: digital photography, Digital Photography Companion, Lightroom Adventure, Technology, The Digital Story, Photoshop World