Dateline: New Orleans, Louisiana, USA. On the scene account by photographer Julie Dermansky. Politicians and BP officials who assure the public all that can be done is being done to protect and clean up the Gulf Coast, might want to reconsider those statements.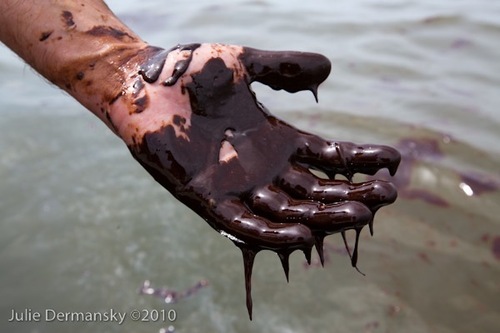 Photo by Julie Dermansky
This is not what I have seen. Brown pelicans on Queen Bess Island are living dangerously close to splotches of oil stuck inside and outside the boom meant to protect the island. Many of them have been rescued by wildlife and fishery officials, while countless others have died. The cleanup effort ramps up when VIP's are around; other than that, the cleanup and containment effort is sporadic at best.
Last weekend, Christopher Hernandez of Grand Isle called members of the press down to show them around the day after 600 workers were bussed in to clean the beach for Obama's visit. Post-Obama, the cleanup crews numbers dwindled and their work hours were almost nonexistant.
Editor's note: Professional photographer Julie Dermansky has been on the scene in the Gulf Coast since the early stages of the oil spill. You can follow her photographic coverage on her Flickr page.