This is The Digital Story Podcast #725, Feb. 11, 2020. Today's theme is "Why Smaller Sensors Will Make a Comeback." I'm Derrick Story.
Opening Monologue
2019 was certainly the year of the full frame camera. At great cost to the bottom line, we saw new large sensor offerings from Canon, Nikon, Panasonic, and Sigma. Meanwhile, Fujifilm and Olympus doubled-down on their respective APS-C and Micro Four Thirds devices. That seems crazy, doesn't it? Well, maybe not. Because I think, thanks to computational photography, we're going to see the second coming of the smaller sensor. Tune in to find out why.
Why Smaller Sensors Will Make a Comeback
Just a few days ago I found myself on a lovely beach at twilight. I was standing there with a very modern Olympus camera shooting sunset pictures with rolling waves in the foreground.
With low ISO and an astonishing shutter speed of 1/2 second, my handheld shots displayed a lovely softened ocean thanks to the water motion combined with a longish exposure, a colorful sky with a perfectly sharp setting sun, and virtually no noise to contend with.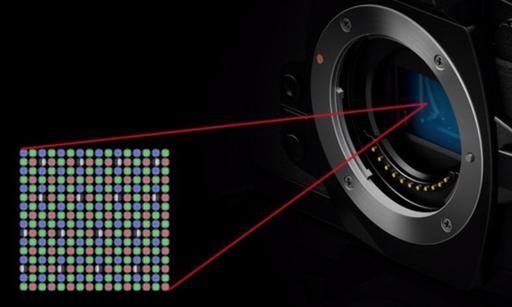 How could all of this be possible with a Micro Four Thirds camera housing a sensor that is already many years old? The specific answer was a feature called Live ND, that in-camera composites exposures to replicate the look of a single image taken at a slower shutter speed. The broader answer is computational photography.
For sometime now, photographers have been asking for smartphone features in their interchangeable lens cameras. Now, in 2020, that request is being answered. And the ramifications are tremendous.
If, for example, you didn't need an expensive large sensor beast to photograph handheld in low light, wouldn't you at least be a bit curious? Think about the benefits for travel photographers who didn't need to lug large lenses and tripods all across the planet.
Here are five reasons why I think smaller sensors are going to start a comeback in 2020.
MFT and APS-C Are Gigantic Compared to the Sensors in an iPhone - Look at the amazing quality that you can get from that tiny sensor in your iPhone. That is the perfect example of the power of computational photography. Now apply that same computing horsepower to Micro Four Thirds and APS-C.

Smaller Sensors Can Be Virtually Noise Free - Remember that old trick in Photoshop where you overlay a series of night exposures and they cancel out the noise in the sky. We can now do that instantly in-camera, and with even better results.

Smaller Sensors Mean Smaller Lenses - The biggest drawback for me with large sensor cameras isn't as much the camera as it is the lens required for full coverage. You can reduce both weight and cost with smaller sensor cameras.

Practically Any Effect Can Be Digitized In-Camera - You want creamy bokeh, edge to edge sharpness, diffraction reduction? There's an algorithm for that.

Tremendous Cost Savings for Photographers - If you don't think prices are going up because of reduced demand thanks to smartphones, then think again. One way to offset those price increases is with smaller, smarter cameras.
And none of this takes into account the amazing things that we can do with our images once they're in the computer. Optical corrections, noise reduction, sampling up, and special effects can be applied to our small sensor photos with high quality results.
On my last trip, I was traveling with a small backpack that would fit in the overhead bin of a bus. I had four professional lenses inside, along with two camera bodies, with an effective range of 14mms wide to 600mms on the telephoto end. I worked from 7am to 9pm, much of it on foot, and my back and shoulder felt as good when I went to bed as when I had awakened.
The camera industry desperately needed something new to reenergize slumping sales. It grasped for full frame. And for some photographers, that's the right call. But it isn't the only high quality option.
We live in a digital age where computing smarts can defy the laws of physics. If you want to carry around a heavy kit, that's your choice. But it's not necessary, and will become even less so as this decade unfolds.
You Want High Quality Wide? The Olympus M.Zuiko Digital ED 7-14mm f/2.8 PRO
With an effective viewing field of 14mms to 28mms in full frame terms, this relatively compact, fast, zoom is perfect for travel photographers, landscape assignments, and for anyone who has to work in tight quarters.
The Olympus 7-14mm f/2.8 PRO measures 3.11" x 4.17" and weighs only 1.17 pounds. Its angle of view is a beautiful 114 degrees to 75 degrees.
It is weather resistant, fast focusing, and beautifully sharp. It's currently available for $1,299, and should supply years of outstanding service.
Update for the TDS 2020 Photography Workshop Season
Those of you on the registration list for the Humboldt Redwoods Workshop, keep an eye out for the registration packet that will go out later this week. We have a great event for you, and I'll be working with you to ensure that you are fully prepared to take advantage of this wonderful opportunity. Plus, we had one seat open up (moved to another workshop), so if you want to join us, hop over to the 2020 Workshops Signup Page and get on the Reserve List.
If you have questions about the other workshops, feel free to drop me a line using the Contact Form on www.thenimblephotographer.com.
When you decide which event is best for your, jump over to our 2020 Workshops Signup Page and place a $100 deposit to secure your place. Only participants on the Reserve List who have placed a deposit will be eligible to register for a workshop. If you have questions or need more information, fill out the "Send Me Info!" request form. I'll get back to you asap.
Updates and Such
Inner Circle Members: A big thanks to those who support our podcast and our efforts!
How to Watch Photos for macOS Catalina and iPadOS - Learn everything you need to know about Photos for the Mac and iPad by checking out my latest course on LinkedIn Learning and on lynda.com. This course is perfect for Mac and iPad based photographers who shoot with iPhone, Mirrorless, and DSLR cameras. It covers both photography and movies. And if I say so myself, it's a lot of fun.
B&H and Amazon tiles on www.thedigitalstory. If you click on them first, you're helping to support this podcast. (The Digital Story is supported by its audience. When you purchase through links on our site, we may earn an affiliate commission.) And speaking of supporting this show, and big thanks to our Patreon Inner Circle members:
Affiliate Links - The links to some products in this podcast contain an affiliate code that credits The Digital Story for any purchases made from B&H Photo and Amazon via that click-through. Depending on the purchase, we may receive some financial compensation.
And finally, be sure to visit our friends at Red River Paper for all of your inkjet supply needs.
See you next week!
More Ways to Participate
Want to share photos and talk with other members in our virtual camera club? Check out our Flickr Public Group. And from those images, I choose the TDS Member Photo of the Day.
Podcast Sponsors
Red River Paper - Keep up with the world of inkjet printing, and win free paper, by liking Red River Paper on Facebook.
Skillshare is an online learning community with thousands of classes for creators, entrepreneurs, and curious people everywhere. Get two months of learning for free by visiting www.skillshare.com/tds.
The Nimbleosity Report
Do you want to keep up with the best content from The Digital Story and The Nimble Photographer? Sign up for The Nimbleosity Report, and receive highlights twice-a-month in a single page newsletter. Be a part of our community!
Want to Comment on this Post?
You can share your thoughts at the TDS Facebook page, where I'll post this story for discussion.