I've been fascinated with B&W photos from the moment I saw my first Life Magazine. Even today I have prints by Eisenstaedt and Bresson hanging in my studio. And currently I'm working with Nik Silver Efex Pro 2
to explore subjects that we commonly think of in color, to see how they might appear otherwise.
If you too are interested in seeing the world in black and white, join me for this week's webinar titled, A Fresh Look at Familiar Subjects in B&W, Wednesday, May 23, 2012, 10am PDT/1pm EDT.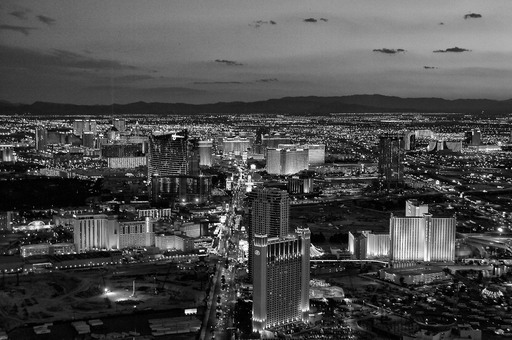 Night scene from my series "Las Vegas in B&W." This will be one of the images I discuss during the webinar.
Together, we'll examine a series of photos and see how the experience changes when we take away the color. I'll then show you my easy, but effective workflow using Nik Silver Efex Pro 2
in conjunction with Aperture. This same approach works with Lightroom too.
The webinar is free, but you do have to reserve a spot. Hope you can join me Wednesday.
---
The Digital Story on Facebook -- discussion, outstanding images from the TDS community, and inside information. Join our celebration of great photography!
---