We were up well before dawn to cover the annual Sonoma County Hot Air Balloon Classic in Windsor, CA. This was the perfect assignment for my Olympus M.Zuiko Digital ED 17mm f/1.2 PRO lens mounted on the OM-D E-M1 Mark II. Even in the dimmest of lighting conditions, I was able to keep my ISO low and the resolving power high.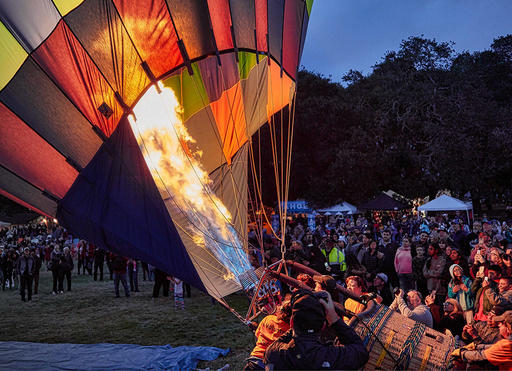 "Firing Up the Balloon" - Olympus OM-D E-M1 Mark II with 17mm f/1.2 PRO lens. ISO 200, f/1.2, 1/200th, -0.7 EV, RAW. Photo by Derrick Story.
For the entire shoot, starting at 5 AM and continuing to 7:30 AM, I locked the aperture at f/1.2 and used auto ISO. The camera keep my ISO very low, usually at 200, yet I still had plenty of shutter speed to freeze the action. The excellent sensor-based image stabilization in the E-M1 also helped my cause.
The RAW files from the shoot had excellent sharpness and tone. I was able to focus quickly on the main subjects and let everything else sort itself out. You would think that I would have many mis-focused shots at such a wide aperture, but those were rare.
On occasion, I would switch to the 45mm f/1.2 PRO, but it and the 17mm were the only two optics that I used for the shoot. Never before has challenging lighting been such a joy.
Master Capture One Pro
Start with Capture One Pro 10 Essential Training that will quickly get you up to speed with this pro level imaging application.
Then drill down into mastering the editing tools with Capture One Pro 10: Retouching and get supremely organized with Advanced Capture One Pro: Catalog Management.
You can share your thoughts at the TDS Facebook page, where I'll post this story for discussion.