Macphun has released Luminar 2018 1.0.1 with a list of improvements and fixes for both Mac and Windows users. They also announced a Black Friday special that runs through November 29.
For $69, you get the latest version of Luminar 2018 for Mac and Windows, plus an Urban Preset Collection, Creative Look LUTs Collection, Ultra Wide Landscape eBook by Ian Plant, and Aerial Photo & Video Training by Matt Granger.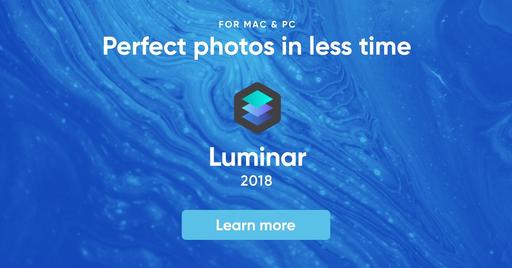 As for the specifics of the update, Luminar 2018 version 1.0.1 for Mac includes these fixes and improvements:
Fixed crash on saving to .PSD format.
Fixed bug when Adobe Photoshop Elements is unavailable.
Fixed bug with Luminosity Mask preview on filter.
Fixed "Image Cannot be saved" issue with Adobe Lightroom.
Fixed RAW Develop\Develop issue when converting Panasonic files.
Added support for more Adobe Photoshop plugins, including Topaz Labs plugins.
Improved RAW processing on opening file.
Improved Windows preset preview.
Improved accuracy of the filter collapse/expand triangle control.
Improved application and Batch processing UI.
Fixed RAW Develop/Develop issue with DNG files.
For the Windows version of the app, these issues were addressed:
Workspaces.
Luminosity Mask.
Image Resize & Sharpen on Export.
Improved Hotkeys support.
Improved RAW opening & processing.
RAW support for more cameras, including Nikon D850.
Fixed bug when launching Photoshop with a blank image.
Plus, improved performance and fixes for a number of reported bugs, including the fixed issue with LowRes image preview on layers with masks, and fixed progress bar for opening images.
In addition to working as a standalone application, Luminar 2018 comes with plugins for Lightroom, Aperture, and Photoshop, plus an editing extension for Photos for macOS.
Photos for macOS as Your Digital Darkroom
You can learn more about using Luminar as an editing extension in my lynda.com training, Photos for macOS: Advanced Editing Extensions.
And if you'd prefer to cozy up with a book, check out The Apple Photos Book for Photographers that features chapters on basic editing, advanced post processing, and editing extensions.
You can share your thoughts at the TDS Facebook page, where I'll post this story for discussion.