I'm back! No more crowded airports, funky rental cars, or rotten WiFi connectivity. But what I do have is a library full of fresh imagery, 3 rolls of exposed film, and movie footage for our Patreon Inner Circle Members. Plus, I recorded and produced a podcast, published articles, and kept up with my moderation duties for the Skylum Photography Group. And I did all of that using only the contents in this bag.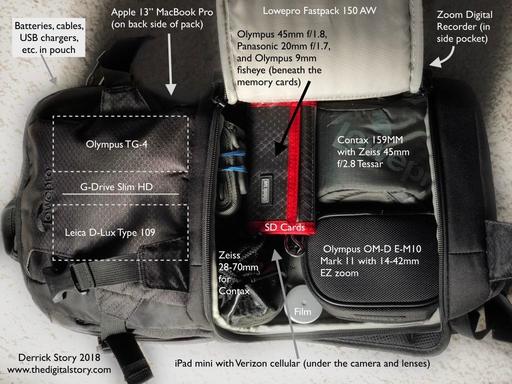 So, now that I'm back, what's the verdict?
Well, all four cameras performed great. The Leica D-LUX produced fantastic images in a variety of lighting conditions. I relied on it heavily in Honolulu where I did a lot of street photography. I also took it hiking a couple times, and other than the limited reach of the 24-70mm lens, I thought it performed admirably.
The Olympus OM-D E-M10 Mark II was perfect for those situations when I needed interchangeable lenses or that lovely tilting LCD screen. It was super compact with its 45mm f/1.8 lens that I often shot with using the 2X digital tele-converter. I also used the Panasonic 20mm f/1.7 prime quite often. Pictures look great!
I forget how much I really like the Olympus TG-4 until I'm on a trip like this where water is everywhere. Whether I was in the ocean or hiking through a sudden rain storm, the TG-4 was there and ready to shoot. Plus, its geotagging feature really helped me stay on top of all the locations I worked.
And finally, the Contax 159MM with Zeiss 28-70mm zoom was a real joy to shoot with during the second week. By then, I was already in an island frame of mind, and the film camera was the perfect fit for capturing the flavor of Lahaina and Hana.
For your reference, here's the packing list for my gear bag on the trip:
Contax 159mm 35mm SLR with Zeiss 45mm f/2.8 Tessar lens
Zeiss 28-70mm Vario-Sonnar f/3.5-4.5 zoom lens (for the Contax 159mm)
Kodak Gold 200 35mm negative film (3 rolls)
iPhone X with AT&T LTE - also serves as my Internet connection when hotel connectivity fails me.
Apple iPad mini - With Verizon 4G LTE to give me access to a different cellular network than my iPhone.
The typical accessories such as batteries, memory cards, backup flash drives, etc.
At one point, we saw whales off the coast and considered jumping on a boat for a closer look. Briefly, I lamented not bringing a longer lens for that expedition. But as it turned out, the water was too choppy for shooting from a vessel, and we passed on the trip. So no harm done. But, I may want to revisit my long lens decision in the future.
So, the bottom line is: I pulled it off. I had my bag with me on planes, trains, and automobiles, in restaurants, and in nature. And I loved it. What a fun (and successful) shooting adventure.
You can share your thoughts at the TDS Facebook page, where I'll post this story for discussion.