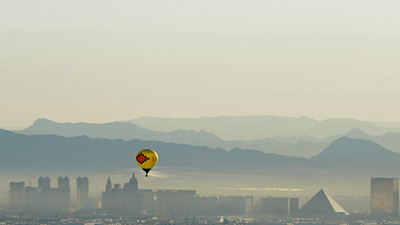 The Panasonic DMC-FZ8 is a compact digital camera that features a 7.2 MP sensor, 12X Leica DC lens, image stabilization, 16:9 option, movie mode, and yes, Raw. The camera, due to ship anytime now, also includes a nice lens hood and filter adapter.
I spent Friday morning shooting with DMC-FZ8 in the Red Rock wilderness area playing with the 36-432mm lens in Jpeg, Raw, and Movie mode. This shot of the balloon rising over the Las Vegas strip was captured in Jpeg mode, ISO 100, 1/500 @ f-7.1, 16:9, focal length at 55mm (330mm equivalent), image stabilization on, pattern meter mode resulting in a 3072x1728 image. Picture quality -- thanks to the lens and processor -- was excellent at ISO 100 and 200, good at 400, and acceptable at ISO 800.
The movie mode was also excellent, capturing directly in QuickTime format with stereo sound. I really like shooting in 16:9 format for the movies, giving me a cinematic 848x480 viewing frame.
Raw mode also worked well and is a welcome addition to this feature-rich camera. I had to use the latest version of Photoshop CS3 or the software included with the FZ8 to decode the files. But I imagine we'll see this capability added to Adobe Lightroom and other decoders before long.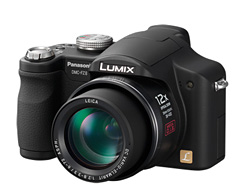 Overall, this is a very impressive camera that will sell for $349 or less. You have lots of pro features, such as manual exposure, aperture priority, manual focus mode, spot metering, 12X optics, Raw capture, filter adapter, and more. Performance was snappy and responsive. The right handle grip makes it easy to steady the camera while shooting, yet is is compact enough to slip into your jacket pocket or day pack.
If you're looking for a high quality compact camera with Raw and a long zoom, the Panasonic FZ8 should be on your list.
Technorati Tags: digital photography, product review, The Digital Story