I have lots to do during this trip to Orlando, so I want to travel light. My Super Nimble kit is only 9" wide by 4.5" deep, yet it packs two cameras, 4 lenses, wireless flash, and all the necessary accessories. Incredible!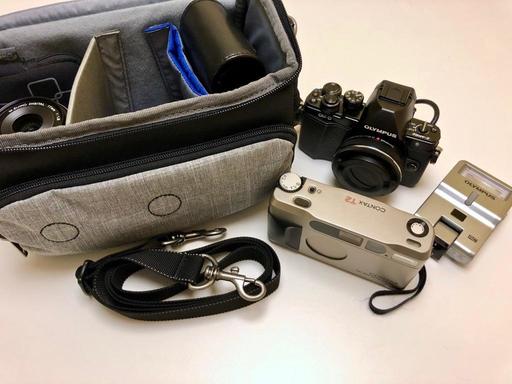 I start with a Think Tank Mirrorless Mover 20 camera bag ($54.75) that's beautifully designed and crafted. When I'm out on foot, it slings lightly over my shoulders. When I'm flying, it stashes neatly inside my gear backpack.
Inside the Mirrorless Mover I've arranged:
You may be wondering why I chose the OM-D E-M10 Mark II over my other Micro Four Thirds cameras. Beyond just the fact that I love shooting with it, it has a popup flash. I can use the popup as a wireless controller for the FL-300R for super versatile (and highly compact) off-camera flash. This is really handy when covering events on the go.
The Contax T2 is a premium 35mm camera with AF and manual focus, programmed exposure, aperture priority exposure with click-stop settings, and exposure compensation up to +2/-2 stops.
I have the iPhone X in my pocket, so I can transfer images from the OM-D to the smartphone for immediate publishing. And when the weather gets bad, there's a protective rain cover for the Think Tank that I can quickly put on.
This is a kit that I can carry all day and well into the night. And to be honest, I can tackle just about any photo opportunity with it. Follow me on Instagram, Twitter, and Facebook to see how it goes.
---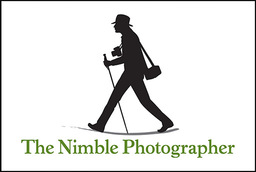 This kit has a (super) high Nimbleosity Rating. What does that mean? You can learn about Nimbleosity and more by visiting TheNimblePhotographer.com.
Want to Comment on this Post?
You can share your thoughts at the TDS Facebook page, where I'll post this story for discussion.