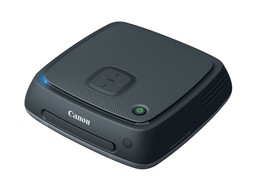 When I first heard about the Canon Connect Station CS100, I thought, "that's cool." But the devil is in the details.
It's a $299 media hub with a 1TB hard drive that enables photographers with 2015 Canon cameras to quickly transfer images and video via an "NFC tap" to the device. Once the content is copied to the Connect Station, it can be viewed on an HDTV, shared with mobile devices via a web browser, or sent to PictBridge compatible printers.
The part that's neat is that you don't need a computer to manage your digital images. Great for some non-techy folks I know. If you have a spare HDMI port on your HDTV, then you can navigate the CS100's menu system to sort and view the pictures. The device also includes a USB port and CF and SD card slots for input.
On the downside, you need a 2015 Canon camera to use the Connect Station's wireless transfer, and it only accepts Canon's CR2vii RAW format. So, if you're Canon-only and buy a new NFC enabled camera this year, great. Otherwise, it's a $299 media server with a SD card slot for your Jpegs.
Want to Comment on this Post?
You can share your thoughts at the TDS Facebook page, where I'll post this story for discussion.