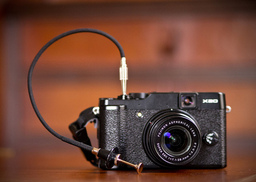 I've been testing the eyefi mobiPRO 32 GB SDHC card with a variety of WiFi-less cameras, and have settled on using it regularly with the Fujifilm X20 compact. (Jump here to see the full report on the eyefi mobiPRO.)
But through my testing I've discovered that the user experience is much better if I follow a specific set of steps when using the new mobiPRO. So I'm sharing that "magical" sequence with you now, because it most likely works for other cameras too.
First, set the preferences for your eyefi mobiPRO card by using its bundled USB reader. (More on that here.) For mobile device usage, I recommend that Selective Transfer is on, and that RAW Transfer is off. Eject the card and put it in your camera.

In the camera menu, Turn Eye-Fi Transfer to "off." This saves precious battery power while you're out shooting.

When it's time to take a break and send your favorites to a mobile device, enable Eye-Fi Transfer on your camera (via the menu) and "Protect" the first photo you want to send to your device.

On your device, go to the Wi-Fi settings and log in to the personal network that the eyefi mobiPRO card is transmitting. Then go to the iOS or Android Eyefi Mobi app and receive the first photo.

With everything still connected, "Protect" the other images that you want uploaded to your mobile device. They should flow over instantly.

Once all the images have been transferred, go to your camera's menu and turn off Eye-Fi Transfer.
At this point, you can play with your photos on the mobile device, upload them to social network sites, or display them for others. I recommend that when you return home, copy all of the pictures off the eyefi mobiPRO card to your computer, and organize them in your standard photo management application.
---
More Help on Managing Your Mobile Photos
In my lynda.com title, Managing Your Mobile Photos, I cover a variety of backup solutions for both iOS and Android users. These tutorials will help you build the perfect backup solution for you, so that you never lose a single memory.
Want to Comment on this Post?
You can share your thoughts at the TDS Facebook page, where I'll post this story for discussion.