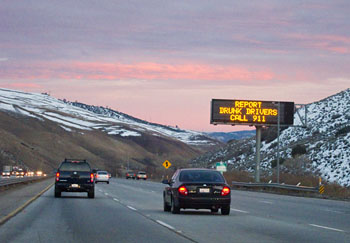 The journey is as important as the destination. Are you missing opportunities for good photographs during your travels? Do you have a camera with you when riding in a cab? Have you ever been in a glass elevator? And please tell me you've taken cloud shots through an airplane window!
This week we're talking about taking photographs through car windows and other crazy places that normally we don't think to pull out the camera. Once you get in this frame of mind, you'd be surprised at how many good images you get.
Listen to the Podcast
You can also download the podcast here (20 minutes). Or better yet, subscribe to the podcast in iTunes.
Monthly Photo Assignment
Slippery is the Jan. 2010 Photo Assignment. You can read more about how to submit on our Member Participation page. Deadline for entry is Jan. 31, 2010.
TDS Workshops Update
The TDS Hot Air Balloon Photography Workshop in June 2010 is sold out. If you'd like to get on the waiting list for upcoming workshops, please send me email with the subject line: "TDS Workshops." Those virtual camera club members who are on the waiting list get first opportunity to register for newly announced workshops. Attendance is limited to 6 for each TDS Workshop to ensure a personalized experience.
More Ways to Participate
Want to share photos and talk with other members in our virtual camera club? Check out our Flickr Public Group. It's a blast!
---
-
---
Podcast Sponsors
SiteGrinder lets you take ownership of your websites. Effortlessly output pages right from Photoshop.
Red River Paper -- Try the $7.99 Sample Kit.
Add Magic to Your Slideshows -- FotoMagico presentations are so amazing that your audience will be asking how you did it.
---
Technorati Tags: digital photography, podcast, technique, Technology, The Digital Story, tips