Curious about Live Text? Want to know more about using your iPhone camera as a personal assistant? I explain all of this, and lots more, in my latest LinkedIn Learning title, Photos for macOS Monterey and iPhone Essential Training.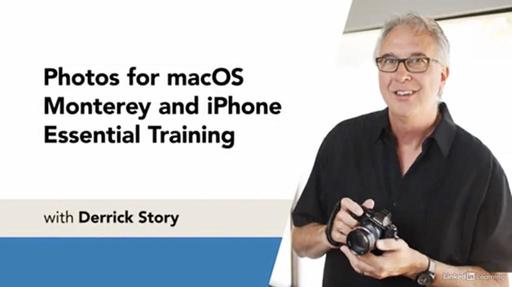 With the free Photos for macOS software from Apple, you can manage, enhance, and share photos in a variety of ways. In this course, photographer, author, and educator Derrick Story takes you on a detailed exploration of Photos for macOS.
Derrick gives you a tour of the interface and the headline new features, then goes into detail on the ways you can use Live Text to transform your camera into your personal assistant. He shows you how to search for pictures by object type, copy images from messages to Photos, use Quick Notes with Photos, and automate common tasks with shortcuts.
Derrick walks you through the improved importing process and gives you some useful tips on organizing and editing your pictures directly in Photos. Plus, he shows you where to find more tips and techniques for working with Photos for macOS.
There are lots of other goodies in this training as well, such as importing one Photos library into another (new in Monterey), enhanced object recognition for search, and more.
If you enjoy iPhone photography and want to get the most out of your smartphone, then take a look at Photos for macOS Monterey and iPhone Essential Training. I think you will find it both entertaining and helpful.
You can share your thoughts at the TDS Facebook page, where I'll post this story for discussion.