This is The Digital Story Podcast #832, March 1, 2022. Today's theme is "My Favorite Tiny Lenses." I'm Derrick Story.
Opening Monologue
A compact sensor doesn't make much sense unless you have a few great pancake lenses to go with it. After all, that's where the nimbleosity comes in, with the glass! Today I'm going to share 5 of my favorite tiny lenses. These are the optics that lighten my load without compromising quality. I hope you enjoy the show.
Digital Photography Podcast 832
Tune-In Via Your Favorite Podcast App!

---

Apple Podcasts -- Spotify Podcasts -- Stitcher

Podbean Podcasts -- Podbay FM -- Tune In
My Favorite Tiny Lenses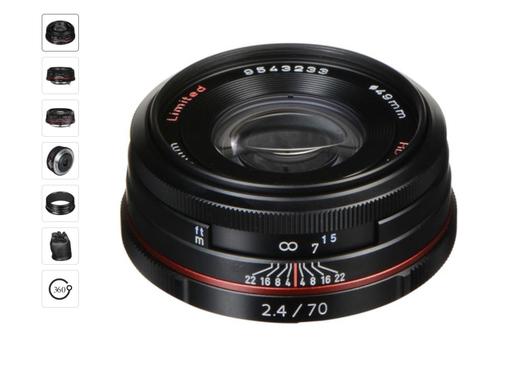 Even though I ordered the new OM System Digital ED 12-40mm f/2.8 PRO II Lens ($999) to go with the new OM-1, it will be used primarily for my professional work, inclement weather, and landscape. When I'm just banging around, I'll have the incredible Olympus Digital ED 14-42mm f/3.5-5.6 EZ Lens ($299) on the camera most of the time.
You might think to yourself, "Why would you buy a flagship pro camera body and put a $299 optic on it?" Answer: because it's that good. And I'm not the only one that thinks that.
Digital Camera World just published an article titled, Olympus M.Zuiko 14‑42mm f/3.5‑5.6 EZ review - The best pancake zoom lens ever!. In their verdict they give it 5 Stars and say:
"The Olympus M.Zuiko 14‑42mm f/3.5‑5.6 EZ is, in our opinion, the best pancake lens ever. In full frame terms it covers a 28-82mm focal range in an impossibly small form factor - not only is this a genuine feat of engineering, but its optical performance punches way above its weight. This is the kind of lens that's only possible on Micro Four Thirds, making it an absolute travel and everyday essential for Olympus / OM System and Panasonic shooters."
I couldn't have said it better. And when I put that zoom on my PEN-F, OM-D E-M10, or even the new OM-1, I have a sophisticated camera with a wonderful 28-84mm zooming range that fits in my jacket pocket. Isn't that why we shoot Micro Four Thirds?
But Wait, There's More!
Here are four more favorite tiny lenses that I adore.
I have used every one of these lenses, and they shine both in image quality and compactness. What more could you want from an everyday optic?
Panasonic Plans to Continue to Support 'Full Micro Four Thirds Lineup'
You can read the entire article on Petapixel.com
During an online event called Creators Live with Lumix GH6, Panasonic indicated that it plans to continue to support a wide range of Micro Four Thirds cameras and not restrict its development just to high-end products. Spotted by DCLife and 43Rumors, the company's marketing manager Tomonori Nakanishi seems to commit to bringing new versions of cameras from across Panasonic's lineup.
"We believe in the diverse possibilities of Micro Four Thirds, and we are developing such diversified products," Nakanishi says, machine-translated by Google. "In today's world where full-size machines are becoming more popular in a sense, it may be a unique approach to develop the full-size lineup in-house and at the same time to develop the Micro Four Thirds lineup in full-scale. However, I believe that this approach will allow the 'GH6' to establish a very sharp and unique position in the world at this moment."
A Panasonic representative told PetaPixel that as popular as full-frame cameras are (and it has developed full-frame cameras as a response to that demand), there are certain things that the company can do with Micro Four Thirds that are not possible with larger sensors, at least not yet. These include specific metrics on pricing and performance that Panasonic's leadership thinks are important and have put at the forefront of its development cycle for many years.
While the photography community tends to belittle or downplay Micro Four Thirds, Panasonic regularly assures fans of the format that it has no plans to ever abandon the system.
The 2022 TDS Workshop Season
We have great events lined up for this year, and there are a few more coming. Here's a recap of what we have so far:
April 2022 - Humboldt Redwoods Workshop (physical)
May 2022 - Infrared Photography Workshop (online event)
August 2022 - Ultimate B&W Photography Workshop (online)
Sept. 2022 - Eastern Sierra Photo Workshop (physical)
Nov. 2022 - Oregon Coast Photography Workshop (physical)
You can learn more about all of these events and register by visiting TheNimblePhotographer.com.
Acknowledging Our Friends at Skylum, MacPaw, and the Sovereign Nation of Ukraine
Recently, Ivan Kutanin, Skylum CEO posted this on LinkedIN: "IMPORTANT NEWS! Friends, partners, and loyal Skylum friends, I need to inform you that Russian forces invaded Ukraine by land, air, and sea, confirming the worst fears we've had. As many of you know our development and core center is based in Kyiv, Ukraine, and at this strange time, we can not guarantee on-time support requesr answers and timing of updates to Luminar Neo.We strive for excellence in everything we do and make sure to further develop and improve Neo and we'll keep you updated on any news.
In these scary times what you can do is share this post to spread more word about what is happening in Ukraine right now, so that your local governments can impose sanctions on Russia and support Ukraine with defensive weapons.
You can also support the Ukrainian army by donating to the "Come back home alive" fund - https://lnkd.in/ebBxp_jt or to the National Bank of Ukraine fundraising account -https://lnkd.in/eciswuCx
Stay safe there and pray for Ukraine!
My friend, Julia Petryk then posted this: "Every morning I wake up in fear in a bomb shelter. Though I could hardly call that state a sleep. The first thing we do is checking how our relatives are doing in other parts of Ukraine. The whole country is on fire.
Russia invaded Ukraine bombing the territory of the sovereign state.
No tears left. No mercy for the enemy. We will win 🇺🇦✊♥️
My thoughts about our friends in Ukraine...
Virtual Camera Club News
Inner Circle Members: A big thanks to those who support our podcast and our efforts!
My Writing on Medium.com: I now have 51 published articles on Medium.com. And if you haven't visited the site, and enjoy good writing on a variety of topics, I suggest that you may want to take a look. You can just go to the home page and enter "Derrick Story" in the search field. And if you like what you read, then follow me!
The New Donation Kit for Carefree Shipping of Found Film Cameras - If you've discovered a film camera that's no longer being used, our new Donation Kit makes it easy to pack and ship. Just visit the Contact Form on thenimblephotographer.com, click the box next to Donating a Film Camera, and let me know what you have. In your note, be sure to include your shipping address.
Affiliate Links - The links to some products in this podcast contain an affiliate code that credits The Digital Story for any purchases made from B&H Photo and Amazon via that click-through. Depending on the purchase, we may receive some financial compensation.
Red River Paper - And finally, be sure to visit our friends at Red River Paper for all of your inkjet supply needs.
See you next week!
You can share your thoughts at the TDS Facebook page, where I'll post this story for discussion.