When I think about what I used to have to lug around to get an additional 1TB of storage, it makes me appreciate the new Kingston XS2000 Portable SSD even more. I can fit three of these in my front pants pocket!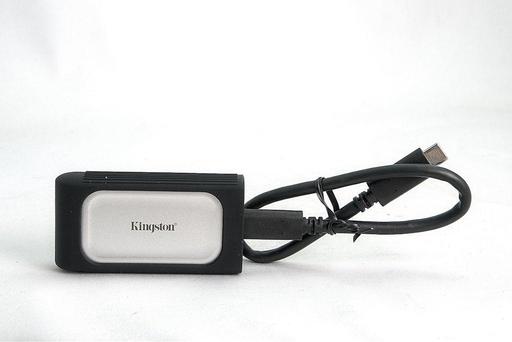 Not only is it light and compact, it's affordable as well weighing in at $159 for 1TB of storage. There are also 500MB and 2TB models at similar prices.
What you get in return is very useful for anyone working with digital media: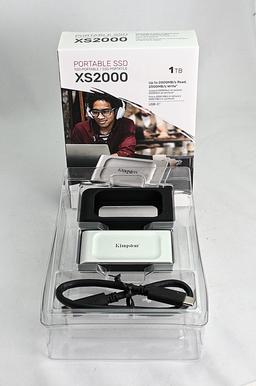 USB 3.2 Gen 2x2 Performance: Industry-leading read/write speeds up to 2,000MB/s.
High-speed Capacities: Up to 2TB to support high resolution images, 8K videos, and large documents.
Built for Durability: Tested to be water resistant, dust resistant and shockproof with an included rubber sleeve.
Pocket-sized Portability: Small, lightweight form factor for easy, on-the-go storage.
Speed: Up to 2,000MB/s read, 2,000MB/s write.
Capacities: 500GB, 1TB, 2TB.
Dimensions: 69.54 x 32.58 x 13.5mm. Weight: 28.9g.
Casing Material: Metal + Plastic.
Warranty/Support: Limited 5-year warranty with free technical support Compatible with: Windows 10, 8.1, Mac OS (v.10.14.x +), Linux (v. 2.6.x +), Chrome OS.
The kit comes with a USB-C cord and a very nice rubber sleeve so you don't have to worry about it banging around in your bag.
It connected quickly to my MacBook Pro. I copied a Capture One Pro catalog (13GBs in size) to the drive in 25 seconds. I then accessed the catalog from C1P and had no problems during editing.
Because of its super-compact size, however, I think the XS2000 would also be a great companion for USB-C tablets, and I'm even thinking of setting it up as a media server for my VW ID.4 that has USB-C connectivity as well.
One last thought... as the holidays approach, I think the XS2000 would be an excellent and affordable gift for the photographer/videographer/musician in your life. Who among them doesn't need an extra terabyte of storage?
You can buy the Kingston XS2000 Portable SSD now directly from Kingston Online Store.
You can share your thoughts at the TDS Facebook page, where I'll post this story for discussion.