When we think of Nik Collection, we tend to focus on the suite of eight plugins featuring Silver Efex Pro and others. But as part of the bargain, we also get the essential version of PhotoLab 5 that's quite powerful. And one of the cameras it supports is the OM System OM-1.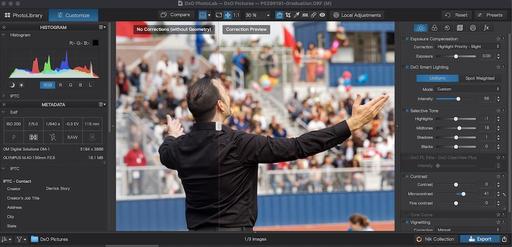 That means that you have access to some great DxO technologies that are a wonderful fit for Micro Four Thirds photography, including DxO Denoising (High Quality Setting), DxO Smart Lighting, color rendering based on camera profile, and more. Plus there's access to an entire toolbox of adjustments that you would expect with any top drawer image processor.
In terms of other supported cameras, there are a few exceptions between the Essential and Elite version of PhotoLab 5. One of them, unfortunately for me, is the Fujifilm X100V (Elite version only). But the rest of my gear is supported in the Essential version, including the OM-1. You can check supported cameras here.
I think many photographers overlook PhotoLab 5 and how it can help them improve their images. And they may not even give the bundled version a try when updating their Nik Collection.
I say take a handful of your RAW files and open them in PhotoLab. You may be delightfully surprised at what you can do with them.
Product Links and Comments
There are product links in this article that contain affiliate tags (for the OM-1 camera, but not Nik Collection). In some cases, depending on the product, The Digital Story may receive compensation if you purchase a product via one of those links. There is no additional cost to you.
You can share your thoughts at the TDS Facebook page, where I'll post this story for discussion.