This is The Digital Story Podcast #509, Dec. 8, 2015. Today's theme is "Personal Projects." I'm Derrick Story.
Opening Monologue
One thing leads to another. In my case, wondering what I was going to do with 16 rolls of Fujicolor Pro 400H that had been occupying the bottom bin of my refrigerator since 2007. That along with the need to come up with a topic for my weekly Rocky Nook post led to The Film Project, the main theme for today's show.
Personal Projects
As satisfying as photography is as a creative expression and demonstration of technical prowess, I think by bringing these elements together in a personal project we can elevate the satisfaction even higher.
In this segment, I talk about The Film Project in particular, and personal projects in general.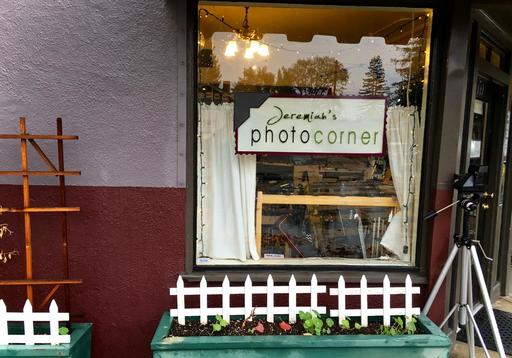 In the News
Dropbox to Shutter Its Carousel Photo App - PetaPixel
"Back in April 2014, Dropbox announced Carousel, a photo app for archiving and sharing personal memories via a Dropbox account. Now, less than two years later, Dropbox is announcing that Carousel will soon be no more.
Carousel will be shut down by March 31st, 2016, a month after Mailbox, the email app that Dropbox acquired in 2013.
Neither app gained widespread popularity over the past couple of years, and Dropbox says that it's now focusing more on solutions for "collaboration and simplifying the way people work together."
Clean My Drive 2 is Available Today
MacPaw team is releasing CleanMyDrive 2, a free cleaner of external drives. CleanMyDrive 2 will also be available on Mac App Store. New features include:
Completely redesigned user interface
File copying to any disk with drag-and-drop simplicity
Detailed storage legend for every drive
Mount and unmount notifications
Automatic disk eject on system sleep initiation
Keyboard shortcut for mass disk eject
Improved hidden service files cleanup
Automatic cleanup on every disk eject
Setting custom disk icons from our beautifully crafted sets
CleanMyDrive 2 requires OS X 10.10+ and 12 MB of free space. The app is free, though in-app purchases are available (fun icon packs can be purchased). Visit macpaw.com/cleanmydrive to download CleanMyDrive 2, or find it in the Mac App Store.
How Do I Do That in Lightroom Book Winners
Congratulations to Jennifer Johnston and Brett Jackson for being selected to receive How Do I Do That in Lightroom by Scott Kelby. They were chosen from the subscriber list of The Nimbleosity Report, a twice a month newsletter with inside scoops and discounted deals. (Did you all enjoy last week's edition?)
The Screening Room
This week's Screening Room selection is Exploring Composition in Photography with Taz Tally. In this course, photographer and educator Taz Tally details four pillars of effective, impactful composition: simplicity, asymmetry, eye lines, and point of view. Through example images and helpful graphics, the course discusses not only the things you can do to enhance composition when you're shooting, but also improvements you can make using imaging software such as Lightroom.
Member Quote of the Week
Intelligent comments culled from The Digital Story Facebook page.
In regard to Sunday's Facebook Post: Canon should make a digital mirrorless version of its famous AE-1 camera - John P. Wineberg wrote: "I've been thinking this regarding the Nikon F system. The Df didn't quite cut it. The reason I was drawn to the Fuji XT1 was it resembled the size and form factor of my FE2."
Post your thoughts on our Facebook page. Believe me, I read them.
Get in the holiday spirit with Red River Paper's greeting cards
Imaging-Resource writes: "Considering the cost of greeting cards in stores, Red River's greeting card selections are a great value and an excellent way to share some of your images for a personal touch." The entire article is informative and definitely worth a read.
Found Treasure
Wood Prints from inkdot.com - They are 5/8" thick and printed on Baltic Birch. They are archival, moisture, and UV resistant. They take two days for printing, then of course ship time. Sizes range from 6" x 6" to 24" x 36". And they make a crazy attractive gift.
Registration is open for The 2016 Street Photography Workshop in San Francisco. And I've posted the full preliminary itinerary on the Workshops page. And if you plan on ordering through B&H Photo or Amazon, please stop by the TDS site first, click on their respective ad tile, then place your order. That extra step helps support the site.
See you next week!
More Ways to Participate
Want to share photos and talk with other members in our virtual camera club? Check out our Flickr Public Group. And from those images, I choose the TDS Member Photo of the Day.
Podcast Sponsors
lynda.com - Learn lighting, portraiture, Photoshop skills, and more from expert-taught videos at lynda.com/thedigitalstory.
Red River Paper -- Keep up with the world of inkjet printing, and win free paper, by liking Red River Paper on Facebook.
inkdot Innovative printing output and accessories for the creative photographer. Visit www.inkdot.com today.
MacPaw Creators of CleanMyMac 3 and other great software for Apple computers. Visit www.macpaw.com today.
The Nimbleosity Report
Do you want to keep up with the best content from The Digital Story and The Nimble Photographer? Sign up for The Nimbleosity Report, and receive highlights twice-a-month in a single page newsletter. Be a part of our community!
Want to Comment on this Post?
You can share your thoughts at the TDS Facebook page, where I'll post this story for discussion.