Chances are you've accumulated more camera gear than you realize. A good way to keep track of it is by using home inventory software. There are a variety of options for both Mac and Windows computers. I've been using an app called Home Inventory on my Mac ($24.99), with a companion app called Mobile Backup for the iPhone.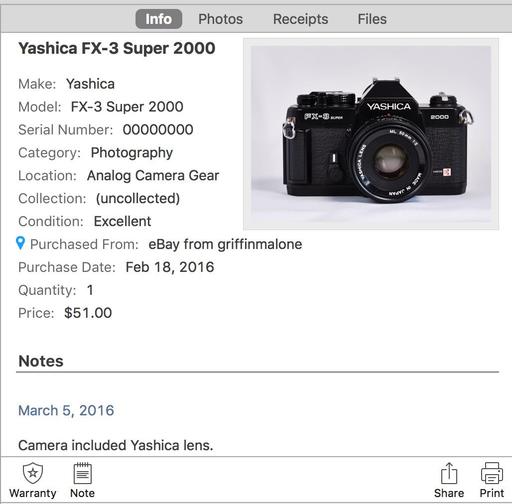 The app is easy to use, and it does a great job of organizing my equipment. I can keep track of serial numbers, the price I paid, condition of the item, and lots more. There's a photo box to add an image (more on that in a moment), and a notes field where I can keep a running commentary on the gear. So if I loan it to someone or sell the item, I can include that information within the record.
One of the fun side benefits of setting up this inventory has been an excuse to practice my product photography. Even though I only include the front facing shot in the inventory record, I shoot the camera from all angles, ala eBay style, and keep those images stored in my Capture One Catalog. It's a good idea to have these images on hand - if I decide that I want to sell any of the pieces for example - and I'm constantly improving my product shots with of this practice.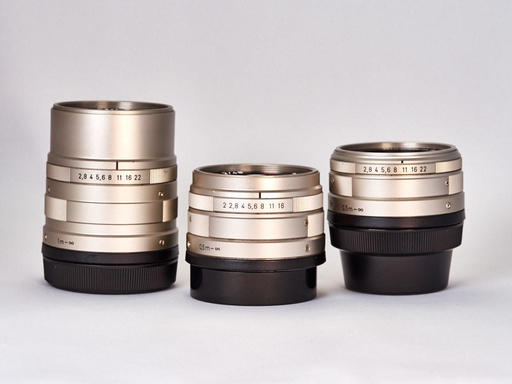 As for the inventory itself, I have a variety of backup options, including to my Mac, Dropbox, or to the iPhone. The iPhone feature is handy because I can view the entire inventory on my mobile device, which is helpful when I don't have a computer with me (which is a lot of the time.)
Organizing your equipment inventory is one of those off-season projects that you can work o as you have time. That effort provides a little extra insurance if theft or damage befalls your gear. Filing a claim is much easier when you have all of the information at your fingertips. Plus, the product photography aspect of it is just a bonus.
The Nimbleosity Report
Do you want to keep up with the best content from The Digital Story and The Nimble Photographer? Sign up for The Nimbleosity Report, and receive highlights twice-a-month in a single page newsletter. Be a part of our community!
Want to Comment on this Post?
You can share your thoughts at the TDS Facebook page, where I'll post this story for discussion.