This is The Digital Story Podcast #898, June 6, 2023. Today's theme is "The Roving Medium Format Photographer (Plus Vision Pro)." I'm Derrick Story.
Opening Monologue
I love self assignments. And my latest one was a gem: road trip to Huntington Beach CA to cover the international reveal of the VW ID.Buzz North American model. In addition to the debut, there was an auto show featuring more than 240 vintage VW microbuses, each with its own personality. And to cover this event? I chose the Fujifilm GFX 100s. What! Yes, that's correct. Find out why on today's TDS Photography Podcast. I hope you enjoy the show.
Digital Photography Podcast 898
Tune-In Via Your Favorite Podcast App!

---

Apple Podcasts -- Spotify Podcasts -- Stitcher

Podbean Podcasts -- Podbay FM -- Tune In
The Roving Medium Format Photographer (Plus Vision Pro)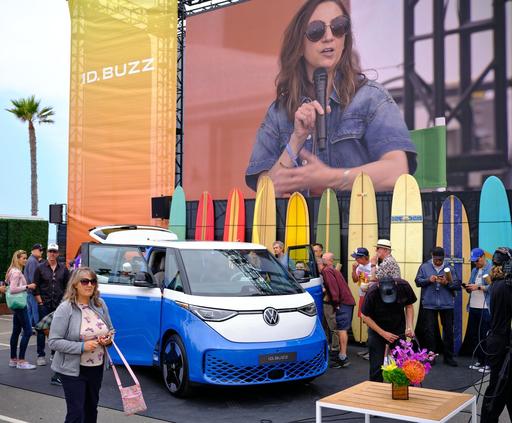 The topic for last week's Nimble Photographer newsletter was What I've Learned After 2 Years of Shooting Medium Format. I described how I've adjusted my rig to go from serious portrait shoots to everyday event photography. The key was finding compact lenses that keep my kit nimble.
As an example of this, I roadtripped to Southern California with the Fujifilm GFX 100S and the compact GF 50mm f/3.5 WR lens attached. The entire kit is housed in a very nimble Think Tank Mirrorless Mover 25i shoulder bag that has enough room for my Fujifilm XF10 ultra compact with 28mm lens.
Switching to the GF 50mm changed everything. It has a 40mm equivalent, which I love. Plus it's super compact and fun to shoot with. That lens transforms the GFX 100S from a bulky medium format to an on-the-go lovable lug.
To prove my point, this was the only kit I packed for my 9-hour journey to Huntington Beach for the debut of the North American VW ID.Buzz. And I had a blast! Here's why I loved shooting with this rig in So Cal.
Did Someone Say Resolution? - I had 102 megapixels to play with. This eliminated the need for a bulky zoom lens. If I wanted to get closer, I just cropped and still had resolution to spare.

Gotta Love that Flip Up LCD Screen - Shooting events in general and car shows in particular requires a variety of camera angles. The 3.2" 2.36m-dot tilting touchscreen LCD made easy work of high and low compositions.

5-Axis Sensor-Shift Image Stabilization - There's no way I'm packing a tripod for this event. And thanks to the built-in IS, I don't have to.

All My Film Simulations in Capture One Pro - C1P fully supports the GFX. So I have access to all of those lovely Fuji film simulations in post. So if I'm not satisfied with my choice at capture, then I can change my mind during editing.

Geotagging the Gig - Even though I wasn't able to use the new App because the 2.0 firmware wasn't ready yet for the 100S, the camera still paired easily with the old Cam Remote app to apply location data to all of my shots.
Plus, it was really fun to roam row after row of vintage VW busses with the GFX in hand. And the photos are absolutely beautiful!
Apple Vision Pro: Apple's big bet on a brand-new platform starts at $3,499
You can read the entire article on Macworld.com.
After months--years, even--of rumors, Apple has finally unveiled its mixed-reality headset. Dubbed Apple Vision Pro, it supports both AR and VR applications and boasts features and specs that make other competing products look like toys. Apple calls it "the most advance personal electronics device ever" and has filed over 5,000 patents related to it. But it will cost you. Apple says it starts at $3,499 and will be available early in 2024. Apple claims it is a high-end TV, sound system, computer, and more-making the cost a bargain by comparison.
Apple calls it a new type of product that blends the digital and real world. It's the first Apple product you look through, and not at. You control everything using your eyes, hands, and voice, rather than holding physical controllers. Apps and the interface can be moved around and resized, and even cast shadows on the real world to help you understand scale. Apple says that just as the Mac introduced us to personal computing, and the iPhone introduced us to portable computing, Apple Vision Pro will introduce us to "spatial computing."
You're able to place multiple apps in the real world space and can type with either voice or a virtual keyboard, but you can also use Bluetooth keyboards and trackpads, and with a glance at your Mac, you can use it on a large virtual display.
An external display shows people what your eyes look like at the moment with a feature called EyeSight, so others are not disconnected from you. But if you're in a fully immersive experience, a cloudy view shows others that you're not able to see them at the moment.
The apps we know are all completely redesigned for the virtual space. FaceTime shows each participant in a large video tile and uses spatial audio to help you place who is talking. Vision Pro also lets you capture photos and video in full 3D, so you can watch them using the headset and experience them with real depth. Watching a film dims the room or places you in a large virtual environment.
Wine Country in Autumn Photography Workshop This November
November 2-4, 2023 - Sonoma County Wine Country is a special place in November. The harvest is in and it's time to enjoy the fruits of labor.
During this workshop we'll combine an outstanding and educational wine experience with beautiful photography, at a relaxed pace. It's the perfect get-away for those who love alluring scenery, great food, and delicious tastings.
If you want to do something truly different, beautiful, flavorful, and come home with unique pictures, this wildly affordable workshop is for you.
We still have a few seats open. And now you can fly directly into Sonoma County Airport and you're here!
The Secret to Good Photography
You can read the entire article on Live View
I want to give you a taste of what we're up to on Live View. So here's a reading of my latest article, The Secret to Good Photography.
Virtual Camera Club News
The Nimble Photographer Newsletter is now publishing every Thursday. Readers will enjoy a variety of content spanning from short photo essays, to commentary on weekly events, to reviews of the latest and coolest photo gear.
TDS Workshops! - You can sign up for available workshops by visiting The Nimble Photographer. Inner Circle Members receive a 10-percent discount on all events.
Inner Circle Members: A big thanks to those who support our podcast and our efforts! We are having a blast at our new Inner Circle hangout, the private group I've set up at DerrickStoryOnline. We'd love it if you join us. You can become an Inner Circle Member by signing up at our Patreon site. You will automatically be added to the new hangout.
Great Photography Articles on Live View - If you check out our publication and appreciate what you see, be sure to follow us and clap for those authors. You can find us at medium.com/live-view.
If you're interested in writing for Live View, drop me a line at dstory@gmail.com.
The New Donation Kit for Carefree Shipping of Found Film Cameras - If you've discovered a film camera that's no longer being used, our new Donation Kit makes it easy to pack and ship. Just visit the Contact Form on thenimblephotographer.com, click the box next to Donating a Film Camera, and let me know what you have. In your note, be sure to include your shipping address.
Affiliate Links - The links to some products in this podcast contain an affiliate code that credits The Digital Story for any purchases made from B&H Photo and Amazon via that click-through. Depending on the purchase, we may receive some financial compensation.
Red River Paper - And finally, be sure to visit our friends at Red River Paper for all of your inkjet supply needs.
See you next week!
You can share your thoughts at the TDS Facebook page, where I'll post this story for discussion.