What to get that favorite photographer in your life? In this week's podcast I have a dozen great ideas. The bulk of the gifts are less than $50, and most are below the $30 mark. So, let's get to it!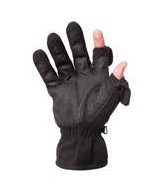 Gifts Under $30
Freehands Men's Stretch Thinsulate Gloves -- $24.95 (until Nov. 30, 2011)
Joby Gorillatorch
-- $28.20
Art & Soul by Brian Smith
-- $26.20
The Glif Tripod Stand/Mount for iPhone 4/4S
-- $20
Giottos Large Rocket Air Blaster
--$8.95
Sanyo Eneloop AA NiMH 4-Pack with AC Charger -- $19.08
ExpoImaging Rogue FlashBender Bendable Bounce Card/ Flag -- $29.50
Canon Lens 1:1 EF 70-200 mm Coffee Cup
-- $19.90 or the Nikon AF-S 24-70mm f/2.8 1:1 Thermos Travel Mug
-- $26.90
Gifts Under $50
Lowepro S&F Lens Exchange Case 200AW -- $38.95
Impact 5-in-1 Collapsible Circular Reflector Disc - 32" -- $32.95
Gifts Under $100
Wacom Bamboo Connect Pen Tablet
-- $69
Lowepro DSLR Video Fastpack 150 AW -- $99.95
And remember, these are nice treets for you too!
Listen to the Podcast
You can also download the podcast here (28 minutes). Or better yet, subscribe to the podcast in iTunes. You can support this podcast by purchasing the TDS iPhone App for only $2.99 from the Apple App Store.
Monthly Photo Assignment
Black & White is the Nov. 2011 Photo Assignment. You can read more about how to submit on our Member Participation page. Deadline for entry is Nov. 30, 2011.
More Ways to Participate
Want to share photos and talk with other members in our virtual camera club? Check out our Flickr Public Group. And from those images, I choose the TDS Member Photo of the Day.
Podcast Sponsors
Red River Paper -- The $7.99 Sample Kit is back! And with free shipping.
Make Your Photos Sizzle with Color! -- SizzlPix is like High Definition TV for your photography.
Need a New Photo Bag? Check out the Lowepro Specialty Store on The Digital Story and use discount code LP20 to saven 20% at check out.
---
Technorati Tags:
digital photography
,
podcast
,
technique
,
Technology
,
The Digital Story
,
tips