Macphun has released Aurora HDR Pro 1.2 with a host of new features and improvements.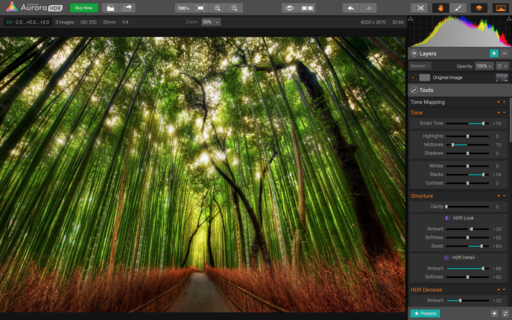 The new stuff includes:
Photos for Mac editing extensions support
Leica M Monochrome (type 246) RAW file support
Open/Save for .HDR and .EXR image formats
And then there are the improvements.
Better RAW file handling for images created by Panasonic, Olympus and Fuji
Updates to Adobe Lightroom and Photoshop plug-ins for enhanced support to keywords, metadata, and "F" Screen mode
Enhanced masking brush for better smoothing on edges
Improved clipping results for overall HDR effect in shadows and highlights
Chromatic aberration reduction has been significantly improved
Better UI support for 11" and 13" displays at multiple resolutions
Faster HDR Merging, faster Deghosting, enhanced Chromatic Aberration Reduction
I gave version 1.2 a spin on my 13" MacBook Pro. The performance was excellent, as well as the rendering. I'm going to test some RAW files with my Olympus to see if I notice any changes there.
I also want to mention that the Aurora HDR plugin for Aperture is excellent. And for those using Apple's legacy pro app, this is a rare opportunity to add a slick new capability to your venerable photo management app. Photos for OS X users can also add a new dimension to their workflow via the editing extension that comes with this update.
Overall, a good app just got better with Aurora HDR Pro 1.2.
The Nimbleosity Report
Do you want to keep up with the best content from The Digital Story and The Nimble Photographer? Sign up for The Nimbleosity Report, and receive highlights twice-a-month in a single page newsletter. Be a part of our community!
Want to Comment on this Post?
You can share your thoughts at the TDS Facebook page, where I'll post this story for discussion.