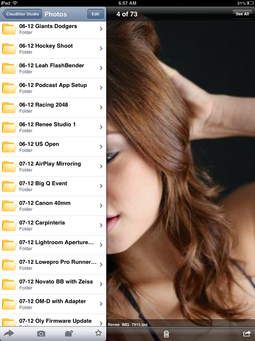 Over a year ago I bought a Buffalo Cloudstor networked storage unit that contains two hard drives (that back up each other via RAID 1) and provides connectivity via local area network or on the Internet. I use it to store web-resolution images (1024x1024 or 2048x2048) of my ongoing photography so I can have access to those pictures on any of my devices at any time.
The Buffalo Cloudstor uses Pogoplug software to make my images available on any of my computers, iPads, or iPhones. Illustrated here is the Pogoplug app for the iPad mini.
After more than a year of use, I'm as happy as ever with this setup. I can access images I've shot over the last 18 months for sharing with others, quick display, web publishing, or any other need I have. The Buffalo Cloudstor plugs right in to my Airport Extreme base station at the studio, and is always on and available. The entire set up cost me a couple hundred dollars, and has paid for itself many times over.
Maybe a Good Time for You to Revisit Your Photo Organization?
If you're thinking about starting out the New Year being better organized and having complete control over access to your images, you may want to take a look at my Organizing and Archiving Digital Photos title on lynda.com. Not only do I talk about the Pogoplug system, I cover many other approaches too, including RAID1, removable drives, and more on personal cloud computing. I also demo their functionality by accessing my images on a local area network, and even downloading archived photos over 400 miles away from a Buffalo Cloudstor drive in my studio.
More on Organizing and Archiving Digital Photos
Organizing and Archiving Overview Movie
Roundtripping from Lightroom to Photoshop
"Organizing and Archiving Your Photos" - Digital Photography Podcast 290
Quick Keywording Tips in Lightroom 3