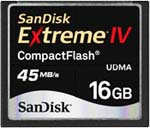 SanDisk announces their latest, the 16GB SanDisk Extreme IV CompactFlash card with transfer rates up to 45MB/s. The cards should run around $399 initially.
And I guess we're going to need 'em. Now with Raw capture at 12 MPs and well beyond, along with adding video to DSLRs, storage becomes important. But it's not just the memory card in your camera. If you're purchasing 16GB CF cards, then you better have a plan for expanding hard drive capacity on the post production side of the equation too.
My point being, as we buy new cameras, and purchase big cards to go with them, we need to think through the entire equation. My current workflow is set up for 12 MP Raw capture. If I decide to upgrade (Canon 5D Mark II), then my budget needs to include new camera, new CF cards, and more hard drives.
Hmmm. Suddenly my current 5D is not looking so bad.
---
-
---