On May 21 and 22, I conducted an Aperture Intensive workshop at TDS headquarters in Santa Rosa, CA. Our goal was to sharpen our post production skills to work more efficiently and creatively using Apple's Aperture photo management software.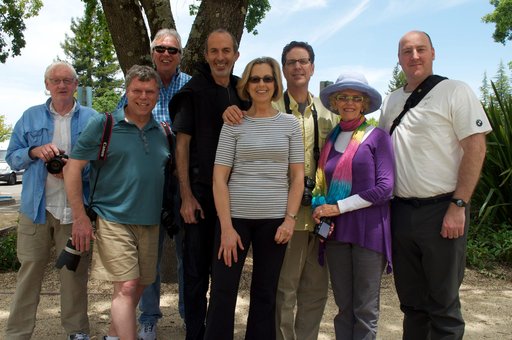 The May 2011 Aperture Workshop crew after a photo shoot at Schulz Museum.
The first day we focused on library management. Setting up the proper library for each photographer's needs, then how to better organize it. We spent time discussing "managed" vs "referenced," plus explored different ways to set up the Library pane once the images have been uploaded. We then tackled metadata management, rating, stacks, versions, and more.
To make sure we had new images to practice with, I sprinkled-in photo shoots throughout the weekend. Since I have Schulz Museum directly across the street from the studio, there's always something interesting to photograph. On the second day, I brought in a model for a few hours so we could practice some portraiture.
For Sunday the focus was image editing and sharing. As a group, I walked them through the steps to retouch portraits (using the images we had shot), enhance landscapes, and work creatively, such as in B&W.
We also discussed sharing images online via social networks and using Apple's MobileMe service. And finally, we created our own dynamic movies using the Slideshow module, complete with effects and music.
If you're interested in attending an upcoming photography workshop (next open event is Oct. 15-16, 2011) or an Aperture Software Workshop like the one described here, just send me a note for more information and to be put on the reserve list. You can also see upcoming workshops by clicking on the Events icon on The Digital Story Facebook Fan Page.
---
The Digital Story on Facebook -- discussion, outstanding images from the TDS community, and inside information. Join our celebration of great photography!
---