One of the many things we learned as our workshop crew prepared to photograph the Sonoma County Hot Air Balloon Festival, was to have your camera ready before leaving the hotel. We had a good plan to capture the "dawn patrol" balloon lighting at 5am. But things don't always go exactly as planned. Here's the story of our adventure, and how we almost missed some great shots. Almost.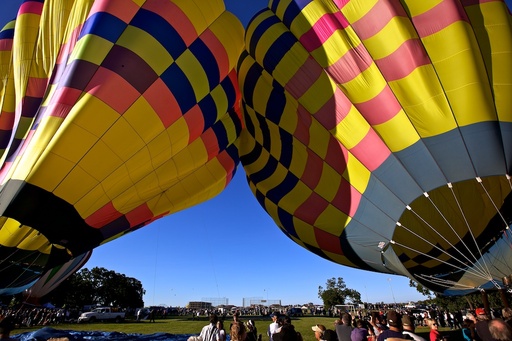 "Fraternal Twins" by Derrick Story from the Sonoma County Hot Air Balloon Festival. You can see the entire gallery here.
You might enjoy the article, More Hot Air than Usual at the TDS Summer Workshop, written and illustrated by the workshop participants as part of their assignment over the weekend. And you can see the entire gallery of photographs from the balloon festival, with a selection of shots from each participant.
Listen to the Podcast
You can also download the podcast here (30 minutes). Or better yet, subscribe to the podcast in iTunes. You can support this podcast by purchasing the TDS iPhone App for only $2.99 from the Apple App Store.
Monthly Photo Assignment
True Grit is the June 2011 Photo Assignment. You can read more about how to submit on our Member Participation page. Deadline for entry is June 30, 2011.
TDS Oct. Photography Workshop and Nov. Aperture Workshop
We're making plans now for the Fall 2011 TDS Photography Workshop, which will be on Oct. 15-16, 2011. I'm also considering adding an Aperture Workshop in Nov. or Dec. If you want your name on the reserve list, or just more information, drop me a line.
More Ways to Participate
Want to share photos and talk with other members in our virtual camera club? Check out our Flickr Public Group. And from those images, I choose the TDS Member Photo of the Day.
Podcast Sponsors
Red River Paper -- Buy direct from the people who make a variety of surfaces for your inkjet printer.
Make Your Photos Sizzle with Color! -- SizzlPix is like High Definition TV for your photography.
Need a New Photo Bag? Check out the Lowepro Specialty Store on The Digital Story and use discount code LP20 to saven 20% at check out.
---
Technorati Tags:
digital photography
,
podcast
,
technique
,
Technology
,
The Digital Story
,
tips