Most drone shots need a little love to reach their potential. And AirMagic from Skylum Software makes it easy and fun to do so.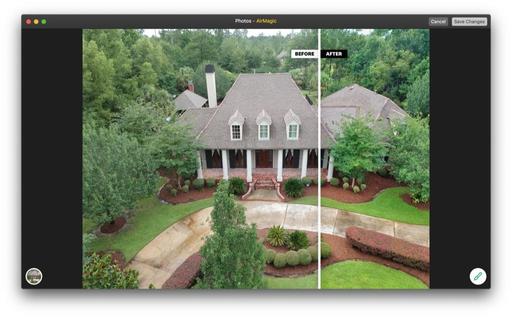 Image captured with DJI Spark before AirMagic. Photo by Derrick Story.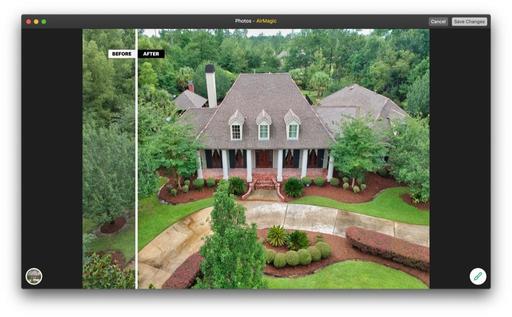 Image after AirMagic has been applied.
Powered by AI and advanced algorithms, AirMagic improves your aerial photos automatically. All you need to do is drag and drop your photos to the app (or use the Open command). AirMagic will take care of the rest by carefully enhancing each picture.
There are three basic ways you can use AirMagic: as a standalone app, as a plugin for Lightroom or Photoshop, or as an editing extension for Photos. Regardless of which approach you take, the process is the same. Point the software to an aerial shot and let it do its thing.
The AirMagic engine detects the camera type on your drone and makes lens corrections and other optimizations specific to that hardware (in my case, a DJI Spark). It then analyzes the image and applies the adjustments required to make it look great. AirMagic works for both Jpeg and RAW files.
In the lower right corner of the interface there's brush icon that reveals a slider that allows you to intensify or soften the adjustment. In the lower left corner there's a styles menu that provides different interpretations of the image. More styles will be available in the future.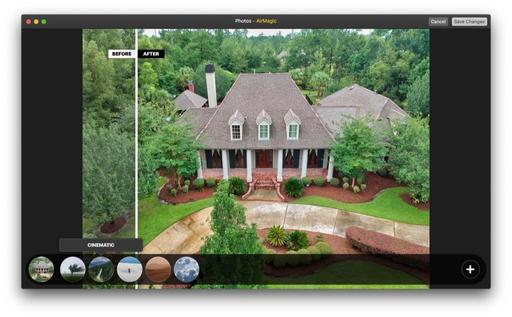 A selection of styles that ship with AirMagic
AirMagic is available for preorder for $39. And the special preorder offer includes a cargo bin of goodies.
The Drone Photography Guide eBook ($19)
"Shoot Professional Photos with Any Drone" video course ($74.99)
One AirMagic Premium Style ($12)
$40 discount on a Lume Cube lighting kit for drones.
Mixed computer households can share the same product key for Mac and PC, and each license can be activated on two devices. AirMagic also comes with a 30-day money back guarantee.
I've been using AirMagic with Photos for macOS. The enhanced images are automatically saved in my library, and shared across my devices. It also works wonderfully with the Lightroom workflow as well.
Now that I have an easy, effective way to process the pictures from my DJI aircraft, I can't wait for the weather to clear so I can go fly. Hopefully, it will re-energize your passion for drone photography as well.
You can share your thoughts at the TDS Facebook page, where I'll post this story for discussion.