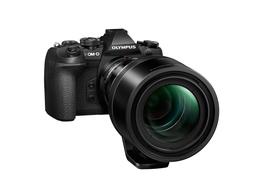 Were you just slightly envious of the improved AF performance of the E-M1X? Well, your E-M1 Mark II is about to get an upgrade. Olympus just released Firmware 3.0, and here's what it does.
Advanced AF Performance - This upgrade utilizes the OM-D E-M1X algorithm, which was developed based on the shooting needs of the professional photographer. With the goal of achieving performance that responds to demanding shooting conditions, such as fast movement in sports, etc., C-AF Center Priority delivers high-precision tracking of moving subjects and sudden subject movement. AF precision for still subjects when using S-AF is improved for various subjects compared to OM-D E-M1 Mark II firmware Version 2.3. Active use of information from the On-chip Phase Detection AF sensor also improves AF performance while shooting video.
Newest AutoFocus Features - Group 25-point has been added to AF Target, and is effective for photographing birds and other small subjects. C-AF Center Priority is now available, and repeatedly autofocuses with priority on the center pointin Group 5-point, Group 9-point, and Group 25-point. If AF is not possible in the center point, the peripheral points in the group area assists, which is effective for subjects that move around quickly. In addition, C-AF+MF is included, which allows users to instantly switch to MF by turning the focus ring while in C-AF for fine-tuning the focus.
Low Light Limit Update - The AF low light limit when an f/1.2 lens is attached is -6.0 EV (ISO 100 equivalent for S-AF), enabling high-precision focusing in both dark scenes and for low-contrast subjects.
Improved Image Quality - Low ISO Processing (Detail Priority) has been added for higher resolution when shooting at low ISO sensitivity, making it possible to reduce noise while shooting with low ISO settings. Compared with OM-D E-M1 Mark II firmware Version 2.3, noise that occurs when shooting at high ISO sensitivity is improved approximately 1/3 of a stop.
USB RAW Data Edit is now supported for much faster RAW processing in Olympus Workspace by connecting the camera to a computer to use the power of the OM-D E-M1 Mark II TruePic VIII image processor.
At the same time, Olympus also released Firmware Version 1.1 for the OM-D E-M1X. Here's how it compares to Firmware 3.0 for the E-M1 Mark II.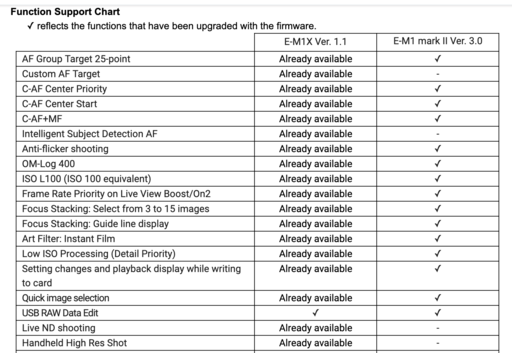 Both firmwares can be applied using the Olympus Digital Camera Updater. For more information, visit the Software and App Downloads page.
You can share your thoughts at the TDS Facebook page, where I'll post this story for discussion.