This is The Digital Story Podcast #671, Jan. 22, 2019. Today's theme is "The Real Tintype, Not the App: An Interview with Jeremiah Flynn" I'm Derrick Story.
Opening Monologue
Tintype photography dates back to the 1850s. And in the hands of today's capable artists, it's still alive. For some folks, their knowledge of Tintype is confined to an app on their smartphone. But the actual process is fascinating, and today, we'll chat with a true Tintype photographer, Jeremiah Flynn, to learn more about this wonderful art form.
The Real Tintype, Not the App: An Interview with Jeremiah Flynn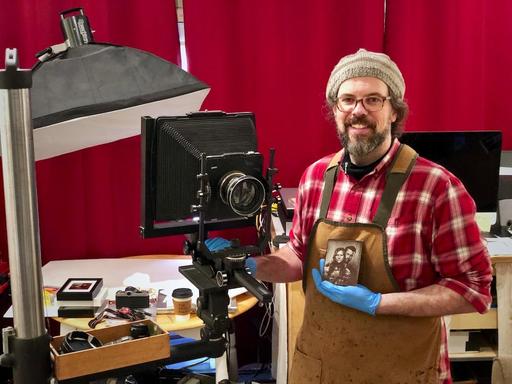 I grabbed by portable recorder and visited Jeremiah Flynn at his place, Jeremiah's Photocorner in Santa Rosa, CA. His Tintype studio is there as well. If you want to see samples of his Tintype work, jump over to JeremiahFlynn.com.
I hope you enjoy learning about this incredible photographic artform from one of its accomplished technicians. We chat about other related topics as well.
The Portfoliobox Tip of the Week
Did you know that you can display your instagram photos on your Portfoliobox site?
Creating an Instagram page is an easy way of having fresh content on your site. You just need to connect your Instagram account with your Portfoliobox site and each time you post an image with a specific tag, the image will also display on your Portfoliobox site. Easy, right?
You can read the step-by-step instructions right here!
Photo Contest: B&W Portraits
To enter, send your best B&W portrait to thenimblephotographer@gmail.com by Jan. 22, 2019. Subject Line: B&W Portrait Contest. Make sure you have permission from the subject. Entrant must have captured the image and performed all of the post production on it. Recommended size of the image is 2000 px on the longest edge. The selected image will be featured on TheDigitalStory and the photographer will receive a 1-Year Pro Account with Portfoliobox.
To create your own Portfoliobox site, click on the tile or use this link to get started. If you upgrade to a Pro site, you'll save 20 percent off the $83 annual price.
Big Thanks to James Hess and Jozsef Scheiber for Their Generous Donations
Both James and Jozsef have pulled together impressive analog camera kits, packed them up, and sent them to me for refurbishing and listing in TheFilmCameraShop. I want to express my gratitude to both gentlemen for their support of this podcast and the world of film photography.
If you have analog gear that you'd like to see in the hands of an enthusiastic film photographer, please us the Contact Form on the Nimble Photographer to get in touch. We'll work together from there.
TDS Workshops Update
Joshua Tree Update
Our Spring workshop in the high desert is sold out. But but I promise that we'll share reports from the event.
San Francisco Street Photography Workshop
I think after 5 great seasons, this workshop has run its course. At the moment, I don't have enough deposits to move forward with the event, so I'm going to cancel it. Thanks to everyone who has made this event one of my favorites!
Sonoma Coast Workshop Update
I've secured a beautiful home for us just south of Bodega Bay. This will serve as our headquarters during the event. There's plenty of room for our classroom and presentation work, plus beautiful areas for relaxing, and even sleeping accommodations for those who wish to stay there.
If you do want to join us July 17-19, and I hope you do, please visit the Workshops Signup Page and place your $100 deposit. That will secure your ability to attend when official registration begins later this month. You can also read more about the event on the TDS Workshops page.
Updates and Such
Inner Circle Members: Our new Photo Challenge is RAW Capture. Check your Patreon page for the details and prize. And thanks for supporting this podcast!
B&H and Amazon tiles on www.thedigitalstory. If you click on them first, you're helping to support this podcast. And speaking of supporting this show, and big thanks to our Patreon Inner Circle members:
And finally, be sure to visit our friends at Red River Paper for all of your inkjet supply needs.
See you next week!
More Ways to Participate
Want to share photos and talk with other members in our virtual camera club? Check out our Flickr Public Group. And from those images, I choose the TDS Member Photo of the Day.
Podcast Sponsors
Red River Paper - Keep up with the world of inkjet printing, and win free paper, by liking Red River Paper on Facebook.
Portfoliobox - Your PortfolioBox site is the best way to show off your best images.
The Nimbleosity Report
Do you want to keep up with the best content from The Digital Story and The Nimble Photographer? Sign up for The Nimbleosity Report, and receive highlights twice-a-month in a single page newsletter. Be a part of our community!
Want to Comment on this Post?
You can share your thoughts at the TDS Facebook page, where I'll post this story for discussion.