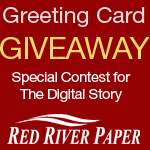 It may be just in time for the holidays, but the gifts are for you. Red River Paper wants you to have the opportunity to print with your very own Canon ip4820 Photo Inkjet Printer. And it couldn't be easier to participate.
All you have to do is subscribe to their newsletter or become a Fan of their Facebook page. (If you do both, that's two entries!) In order to qualify for prizes, first visit The Digital Story landing page on the Red River site. The links for contest entry are there. It will take you less than one minute.
For your effort, you will have the opportunity to win:
Canon ip4820 Photo Inkjet Printer - A top pick for printing Red River note cards
Red River Greeting Card Sampler Kit
$100 Gift Certificate for use at Red River's website
This event is to celebrate Red River's fantastic selection of greeting card paper that you can use to create fine art gifts (at a very affordable price).
So, let's have a strong turnout for our longest running sponsor (who has so much to do with keeping the TDS podcast on the air). Enter to win today!