A big part of my assignment here at photokina is to create and publish short videos for Lowepro. My basic rig is the Canon EOS 5D Mark II with the EF 24-105mm f/4 L IS zoom lens
and an external lapel mic. With this setup, I can record good video on the noisy, artificially lit, trade floor at photokina. Here's an example. This is a guided tour of the Lowepro Pro Roller Attache x50 narrated by Tim Grimmer.
I used an 77mm ExpoDisc
to fine tune the color using the Custom White Balance setting on the 5D Mark II. With video, it really helps minimize post production by getting the sound and color right at capture. Then I can upload the content, along with the stills into Aperture for trimming and assembly.
As you can see from the illustration, this short production consists of two still photos and the HD video clip. Very simple. But often simple is good for YouTube productions, especially if they are clean.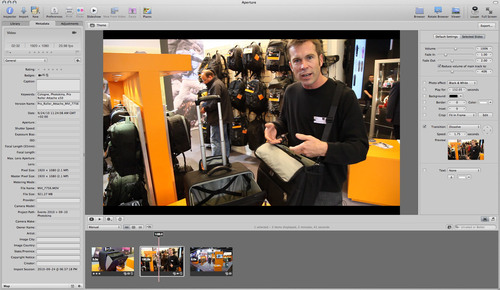 Video production in Aperture 3. Click on image for full size version.
I then export a 720p HD version directly out of Aperture and upload to YouTube. Streamlining this workflow allows me to get the sleep I need to be strong the next day, yet produce the content quickly.
And BTW... photokina is a blast!
More Aperture Tips and Techniques
To learn more about Aperture 3, check out my Aperture 3 Essential Training on Lynda.com. Also, take a look at our Aperture 3 Learning Center. Tons of free content about how to get the most out of Aperture.
---