We're just about finished with the cover design for iPad for Digital Photographers,
and I thought you might enjoy the "inside story" about the model who graces the front cover.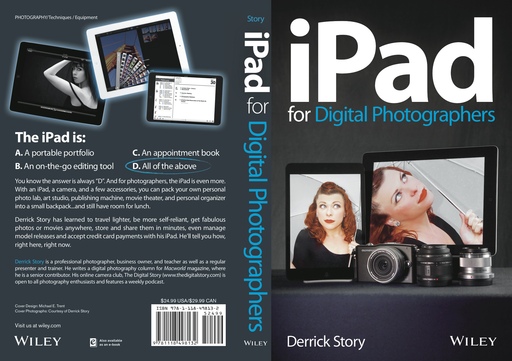 Her name is Lovely LadyJ. This was my first shoot with her. (I'm hoping she will be available for the TDS workshop in April.) Those portraits of her holding a photo umbrella were captured at Schulz Museum, across the street from the TDS headquarters.
I liked how Lovely LadyJ had prepared her hair and makeup on that rainy day she showed up at the front steps of the studio. After we finished the first series of photos inside the portrait room, I asked if she would be OK posing for a second series outside, even though the conditions were a bit challenging. She loved the idea.
By using the photo umbrella to protect her from the rain, it also served as a light diffuser and white background. I set the Olympus OM-D E-M5
to ISO 800 and mounted the Olympus 60mm f/2.8 portrait/macro lens
on the body. We shot in the rain for about 20 minutes, then dashed back to the studio.
When it came time for me to create the front cover image for the book, I loaded Lovely LadyJ's portraits on an iPad and an iPad mini. I set the devices on stands in the studio with an Olympus Pen mini and a few lenses, then shot the set live. In other words, the images were not "dropped on to the iPads" in post. What you see is how I shot it. I sent the cover image to Wiley Publishing, and designer Michael E. Trent took it from there.
My philosophy is to "walk the talk" with this book. I've written big chunks of it in Pages on an iPad, and shot most of the images with an iPhone or micro four thirds camera. If I can't do it in real life, it doesn't go in the book.
iPad for Digital Photographers,
is scheduled for release on May 7, 2013. I'll have more behind the scenes anecdotes to share between now and then.
---