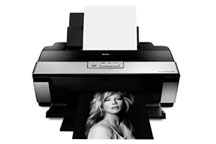 For quite sometime, the Epson R2400 inkjet printer has been the standard for photo enthusiasts, especially those who enjoyed B&W output. Even though it produced great images, the R2400 did have its shortcomings. Its nozzle management system sometimes didn't manage very well resulting in clogged jets at worse, or lots of ink flushed to clear them at best. Plus, having to swap cartridges for matt and glossy surfaces was a pain, resulting in more flushed ink.
Epson has addressed many of these issues with the release of the R2880, as reviewed by the smart folks over at Printerville, who write:
"In the short time we've had our R2880, what has impressed us most though is its ink efficiency. The printer's ink cartridges are the same capacity (between 13 ml and 15 ml, depending upon the source) and price ($13.99) as those of the R2400, which works out to between $0.82 and $1.08 per ml, better than HP's Photosmart Pro B9180 and B8850 and Epson's R1900 (but still considerably higher than the Stylus Pro 3800). After two complete ink changes and some careful comparison with our in-house R2400, the advancements Epson has made in the R2880 were readily apparent. Unlike the R2400, ink life was fairly consistent across all of the colors, and even with extremely low ink levels, we didn't have to replace cartridges when swapping between photo and matte black inks."
I know this printer will continue to be put through its paces. But out of the gate, it's looking like a winner in the sub-$1,000 derby.
---

Events! See the TDS Event Calendar for photography workshops, speaking engagements, and trade show appearances, including my Beginning Workflow with Adobe Photoshop and Lightroom on June 22-28, 2008 in Sante Fe, New Mexico.
---
Technorati Tags: digital photography, Printer, Printerville, Technology, The Digital Story