As a photographer, I think it's important to document the world around me. And when something big happens, even more so. Here's a recent example from the fires in Northern California last month. Let me take a few steps back.
Once we were allowed back home after the mandatory evacuation for the Kincade Fire, we spent the first week getting our lives in order. But once the daily rhythm returned, it was time to explore the neighborhood with camera in hand.
The entrance to Chalk Hill Winery. Fujifilm XF-10. Photo by Derrick Story.
The first place I wanted to see was Chalk Hill Winery, just north of our house. At the peak of things, they had the fire bearing down on them as it traveled south from Windsor. Even though there were major burn areas at the winery (such as the entrance as shown above), fire fighters managed to protect the big structures. Chalk Hill released this statement about the close call:
""From all of Foley Family Wines, we would like to extend a sentiment of extreme gratitude for the heroic efforts of all first responders in fighting the Kincade fire. With one winery located in Geyserville [Foley Sonoma], and three on Chalk Hill Road [Lancaster, Roth and Chalk Hill], we certainly feared for the worst. We are relieved and grateful to report that, although a few of our properties suffered damage to non-essential buildings and equipment, all employees are accounted for and safe while our wineries escaped major damage."
Just down the road and heading South back to my place, I saw a number of homes that had been saved. Some of them had burn areas all around, but the structures themselves were intact. These were incredible testaments to the tenacity of the fire fighting crews.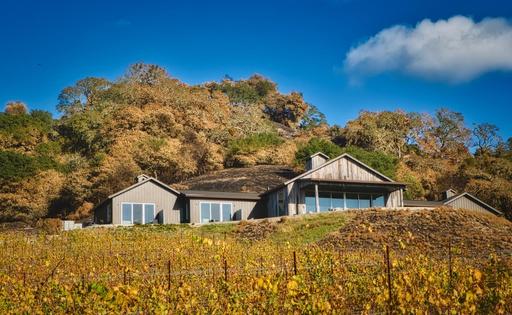 Home spared from the fire. Notice the burned trees directly behind the house (that is not Fall color!) and the scorched area out front to the right. Olympus PEN-F with 14-42mm zoom. Photo by Derrick Story.
Further South on Faught Road, not far from Shilo Regional Park, there was an area where the trees were cut down to create a fire break. Some of them were burning at the time.

Trees cut to create a fire break. iPhone X in panorama mode. Photo by Derrick Story.
In the neighborhoods that were saved, there are signs everywhere thanking the first responders for their courageous efforts. We saw reports that showed how fighters would line up their trucks nose to tail to draw a line to protect a neighborhood. People who live here understand how good these professionals are at their jobs.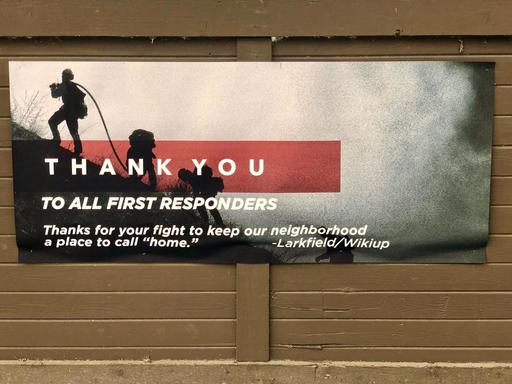 Neighborhood Thank You Sign. iPhone X. Photo by Derrick Story.
I keep a visual diary with notes using Day One Classic that's loaded on my Mac, iPad, and iPhone. One of the things that I like about keeping the diary is that it motivates me to get out and photograph the world around me, plus keep track of day to day milestones and family.
As much as I love travel photography and assignment work, documenting my personal life and the world outside my front door is just as satisfying. That being said, I hope I won't need to take any more post-fire pictures for a long, long time.
You can share your thoughts at the TDS Facebook page, where I'll post this story for discussion.