This is The Digital Story Podcast #695, July 9, 2019. Today's theme is "My Kickstarter Batting Average." I'm Derrick Story.
Opening Monologue
There are a variety of projects to back on Kickstarter, but many of them seem particularly alluring to photographers. Exotic lenses, innovative cameras, and a cornucopia of creative accessories keep our fingers poised over the "Back this Project" button. But how many of these actually live up to their promise? Today, I'll share my personal batting average from over the last 5 years. I hope you enjoy the show.
My Kickstarter Batting Average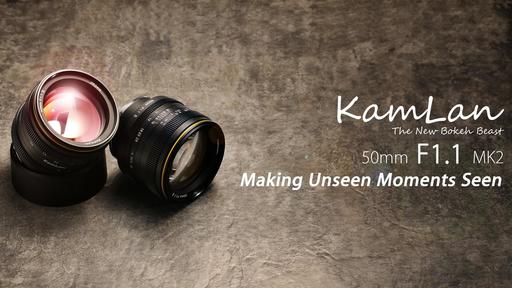 The latest project that I just couldn't resist was the Kamlan 50mm F1.1 MK2 Prime Lens for Mirrorless Cameras. Promoted as the new "Bokeh Beast," the project garnered 1,229 backers pledging $267,603 to bring this lens to life.
I've paid $199 for a MFT version that I'm hoping will be delivered by year's end, even though the Kamlan folks are hoping to start shipping in August. Which touches on the first thing that I've learned about Kickstarter projects: they rarely ship on time.
Most endeavors do a reasonably good job of keeping us informed along the way. As a result, I've learned much about the challenges of producing large quantities of complicated machined products. It's tough, and it always seems harder than the creators initially calculate.
That being said, I've received most of what I signed up for over the last five years. And I thought that you might be interested in my particular track record as you contemplate your own potential pledges.
5 Years of Kickstarter Projects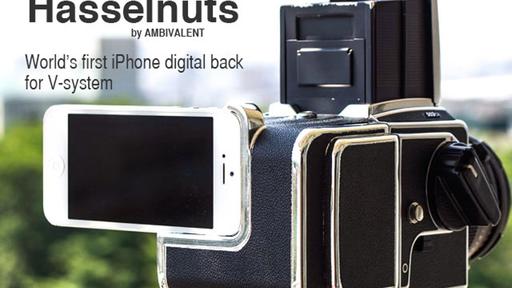 Total Projects Pledged: 15 - One of my early projects in 2013 was the "Hasselnuts: Hasselblad Camera + iPhone DigitalBack Kit!" I had a Hasselblad 500C at the time that I wasn't using very much, and I was intrigued by this iPhone digital back adapter for it. I pledged $219 for it, received it after many delays, and it worked - for my iPhone 4S. Unfortunately Apple kept changing the iPhone dimensions, rendering my cool Hassey back woefully outdated. You see, they didn't really plan to accommodate different phone dimensions. I ended up selling the 500C. I still have the Hasselnuts.

Total Projects Delivered to Date - 9 - Back in 2013, I was pretty excited about The Lomography Smartphone Film Scanner. One again, I was hooked on the idea of using my iPhone as a digitizer to add images directly to my iCloud account. For my $55, I did receive the film scanner. And I still have, though I don't use it much because of its poor image quality. If I would have really thought this one through, I probably could have predicted its performance. And I haven't revisited it with my iPhone X. Maybe I should.

Projects Promised that I'm Still Waiting for - 4 - Of the bunch, the one that I'm most excited about is LAB-BOX - The first multi-format daylight-loading film tank. Originally, this project was slated for delivery in Sept. 2017. They have finally begun shipping, and I may have mine by Sept. 2019. This device would allow me to process film in complete daylight. No darkroom required. If it works as promised, it will save me a ton of money in processing costs. I'll keep you posted.

Projects that did not Reach their Funding Goal - 2 - One that I was really pulling for was the KOBRA Flash Modifier System. But they only raised $37,296 of their $125,000 goal. So the project wasn't funded. They rebooted and tried again, and it looks like they met their goal the second time. But I lost interest and have no idea how it all turned out.

Potential Batting Average of .867 - If my outstanding projects deliver, I'm looking pretty good. And even if none of the outstanding projects never make it to my mailbox, I'm still batting a cool .600.
So, by now you're probably wondering what my favorite Kickstarter project has been. Of the ones delivered, I use the Lume Cube flash and video light the most. It's super handy. And I can take it underwater for snorkeling as well.
I still have high hopes for Lab-Box and the Kamlan 50mm F1.1 lens. We shall see.
New Nimble Podcast - Photographer Shelby Knick
In the podcast titled From Outside the Fence to In, Shelby talks about her first interview to apprentice with a pro photographer for motor sports. I thought you might enjoy this anecdote.
The entire conversation is terrific. I think you will enjoy what Shelby has to say. To ensure that you don't miss any of the podcasts, I recommend that you subscribe to The Nimble Photographer Podcast on Apple Podcast, Stitcher, Google Play, or whereever you tune in.
This Famed LA Ice Cream Truck Has Started Charging 'Influencers' Double
You can read the entire article here. Here are some of my favorite passages:
The CVT Soft Serve truck is an LA institution with a 15-year history, but its reputation comes with a downside. Owner Joe Nicchi is increasingly bombarded with requests for free ice cream in exchange for "exposure" on Instagram.
The owner reached his limit last week, when he tells VICE that an unnamed influencer asked him to work an event for 300 people... for exposure. That's when he announced a new policy through (ironically) the truck's Instagram account: anybody who asks for a $4 ice cream cone for free will pay $8.
"We truly don't care if you're an Influencer, or how many followers you have," reads the caption. "We will never give you a free ice cream in exchange for a post on your social media page." #InfluencersAreGross
Dynapak MKI Presets And Profiles Aim to Enhance M4/3 RAW Files
You can read the entire article here. Here are some of my favorite passages:
The Dynapak MKI profiles and presets pack has been designed to help Micro Four Thirds users get big, bold colors, and better dynamic range from the small sensors. The color profiles that come with the bundle have been created to work with Adobe's Camera Raw software and Adobe's Lightroom. The profiles help the software get closer to the light-data that has been captured by the camera's sensor, which in turn should allow for more dynamic range, and much deeper, more vibrant colors than you could get without the profiles in place.
The bundle also comes with 11 creative presets, a Dynapak MKI training video that will help get the most out of the profiles, and free updates forever. The Dynapak MKI Profiles and Presets bundle will work with Camera Raw, Lightroom Classic, Lightroom CC and Lightroom CC mobile so you can edit while you're on the road. The Bundle is available now for $60. Head on over to Dynapak MKI Product Page for more information.
Do You Have a Film Camera that Needs a Good Home?
Over the last year, I've received donations from TDS members who have film cameras that need a good home. What I do is inspect the items, repair and clean as I can, then list them in TheFilmCameraShop where I can find a good home for them. If you're interested in donating, please use the Contact Form on TheNimblePhotographer site. And thanks for you consideration!
Updates and Such
Inner Circle Members: A big thanks to those who support our podcast and our efforts!
B&H and Amazon tiles on www.thedigitalstory. If you click on them first, you're helping to support this podcast. And speaking of supporting this show, and big thanks to our Patreon Inner Circle members:
And finally, be sure to visit our friends at Red River Paper for all of your inkjet supply needs.
See you next week!
More Ways to Participate
Want to share photos and talk with other members in our virtual camera club? Check out our Flickr Public Group. And from those images, I choose the TDS Member Photo of the Day.
Podcast Sponsors
Red River Paper - Keep up with the world of inkjet printing, and win free paper, by liking Red River Paper on Facebook.
Portfoliobox - Your PortfolioBox site is the best way to show off your best images.
The Nimbleosity Report
Do you want to keep up with the best content from The Digital Story and The Nimble Photographer? Sign up for The Nimbleosity Report, and receive highlights twice-a-month in a single page newsletter. Be a part of our community!
Want to Comment on this Post?
You can share your thoughts at the TDS Facebook page, where I'll post this story for discussion.