It got to a point after 30 days of isolation, that I would pull out my camera bags just to revisit my gear. I'd dust off the lens, check the battery, then fire off a few frames in the direction of the cat.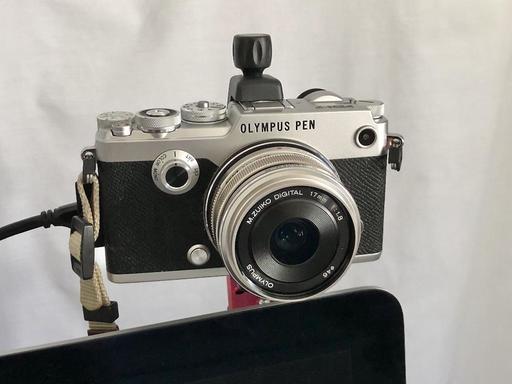 I hadn't shot with the Olympus PEN-F for a while, and I wanted to put it to work. Not just for goofing around, but for something meaningful. I began to consider it for a task that I never really thought about before: video.
After all, it does have a mini-HDMI port, flip screen, and some decent controls. I did a little research on the camera for movie making and didn't find a lot. El Gato didn't even have Olympus cameras on their "approved" list for Cam Link. My curiosity was piqued.
One of the nice things about the PEN-F is its size. It would actually fit in the MeFOTO SideKick bracket that was designed for smartphones. This was a big win, because the SideKick is really easy to adjust and work with.
Also, the HDMI output is clean with the PEN-F. That means that I can send just the image it sees without any settings display or other distracting information. And the image isn't cropped either. I was able to stream 1080p at full frame. This is a really big deal, because now this camera can be used as a super high quality webcam.
Another win was the Olympus 17mm f/1.8 lens. It provides a "not too wide" 34mm field of view (so I don't have to clean every corner of the room behind me), but better yet, the snap-focus feature allows me to easily use it as a manual focus lens on the fly, which I much prefer for video work. Focus once and don't worry about it.
I reprogrammed exposure compensation for the ring around the shutter button, so it's really easy to add or subtract exposure but just reaching up and moving it. I'm fortunate because I already had an El Gato Cam Link interface before the pandemic hit. They are hard to find now, even the IOGEAR Interface is backordered.
My point is, however, that I never thought of the PEN-F as a video camera. For me, it was a wonderful still photography urban explorer companion. But I wasn't getting to shoot with it that way. And I probably won't yet for a while.
But now I'm using it practically every day for my indoor video work. And I love it all over again! It was the main camera for my upcoming release of The Essential Steps to Impressive Video Conferencing course, and continues to work daily at the studio for video conferencing.
Who knows what other things your favorite camera can do. I'm sure it has some hidden talents as well. Get it out of the bag, fire it up, and see what you discover.
There are product links in this article that contain affiliate tags. In some cases, depending on the product, The Digital Story may receive compensation if you purchase a product via one of those links. There is no additional cost to you.
You can share your thoughts at the TDS Facebook page, where I'll post this story for discussion.