I like my vintage 2008 17" MacBook Pro (MBP). But it had become too tired to run Aperture and manage my extensive photo library. Rather than give up on this otherwise beautiful machine, I decided to replace the traditional hard drive with a new Crucial Solid State Drive (SSD). Now that the project is completed, I have to say, the results have exceeded my expectations.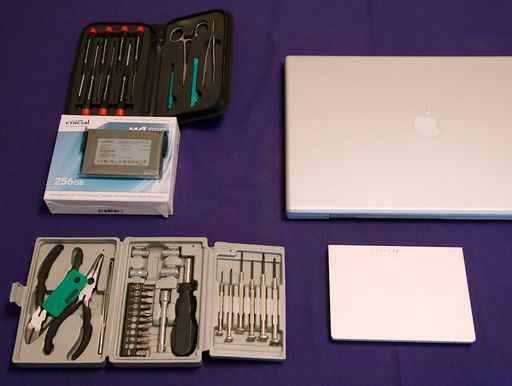 Preparing for the hard drive replacement.
Basic Specs for the Mac
Even by today's standards, the MBP 17" has decent specs. At its heart beats a 2.5 GHz Intel Core 2 Duo processor. I have 4 GBs of DDR2 SDRAM for memory, and a NIVIDIA GeForce 8600 GT graphics card with 512 MBs of memory onboard to process the images. Plus this MBP has a beautiful matte finish LCD display that was one of the first LED models that Apple shipped. I love editing photos on this screen. (It's worth keeping for the monitor alone.)
Other goodies include a SuperDrive for both CD and DVDs, 3 USB ports, FireWire 800 and 400 ports, plus an excellent sound system. Like I said earlier, way too good of a machine to give up on quite yet.
But its Achilles heel was the 200 GB Hitachi internal hard drive. It was slowing down my entire system. Aperture in particular was painful. I could barely perform the simplest image edit without a spinning beach ball.
The Upgrade to Solid State
Since Aperture is constantly hitting the hard drive, I thought moving to Solid State might help. In part, this belief stems from my excellent experience using the current MacBook Air. I thought that if I "air-i-fied" my MBP, I might be more satisfied with its performance.
After I received the Crucial SSD, I watched "How to replace your 17" Mac Book Pro hard drive:"
Then I retrieved my Newer Tech 11-Piece Computer Tool Kit and spread everything out on a covered table. Once all the screws were removed, I was careful when lifting the keyboard. There's a ribbon cable that connects it to the mother board that I didn't want to damage.
I keep all the various sets of screws separate and labeled. This makes reassembly much easier (without any extra parts). The entire operation lasts about 30 minutes. I take my time when taking apart computers...
New SSD in place. Now all I have to do is put everything back together.
Adding Software
Fortunately I have a copy of Snow Leopard on DVD, so I held down the "C" key and booted the laptop from it. I used Disk Utility to format the Crucial SSD for Mac OS X Journaled. Then I installed the operating system itself.
Once I had Snow Leopard on the SSD, it was just a matter of running updates so I could eventually access the Mac App Store to download Lion and install it. After that, I used the App Store to redownload Aperture, and the rest of my software. (I have a few hints about bringing Aperture up to speed that I will cover in another article later this week.)
And That Old Toshiba Hard Drive I Removed...
Even though I had backed up my files on an external hard drive before installing the SSD, I still wanted that old Toshiba available in case I had forgotten something. So I pried open an LaCie Rugged portable unit that had a failed hard drive in it, pulled out the bad hard drive, and replaced it with the unit I had removed from the laptop. I now have all of my previous files available.
Beter Performance, Indeed
The 2008 MacBook Pro is like a new computer. It's currently handling an Aperture library containing 50,000 referenced images with very little effort. I can now edit RAW files from my 5D Mark II without those long delays I was previously experiencing. I love working on this big boy again.
The entire project cost me less than $275. (You can't get an iPad for that amount, let along a big 17" matte screen workhorse.) And performance is so much snappier than before. I'm definitely enjoying this ride.
---
The Digital Story on Facebook -- discussion, outstanding images from the TDS community, and inside information. Join our celebration of great photography!
---