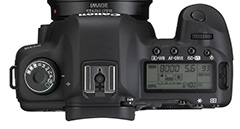 So, one of the objects of my desire, the Canon EOS 5D Mark II, appears to be a wonderful camera in almost every area... except, it's now 21 megapixels. On its heals, Nikon announces the the 24 megapixel DX3. Wow, big resolution indeed. But is it resolution I need?
I'm seriously asking myself this question. Right now I'm shooting Raw with a Canon 5D that weighs in at 12 megapixels. I'm also testing a new Olympus E-30 DSLR, that also captures at 12 megapixels. When I'm on a shoot, I'm capturing lots of images. And over the course of a year, the tally is in the thousands.
These are pictures that I have to catalog, back up, process, etc. My current post production system can handle 12 megapixel files. But I know that a 20+ megapixel camera will indeed stress my system. The irony is that I rarely make a print bigger than 13"x19", and I just haven't needed more resolution. So the march of more megapixels is actually a barrier to purchase instead of an incentive.
Is it just me?
---
-
---