Do you remember a podcast from my past called the iLife Zone? If so, you know that Chris Breen and I used to chat about all things Mac. Well, we got together again this week on the MacWorld Podcast to talk about my trip to Beijing and working in the Main Press Center. It's a good conversation, and it was terrific to be working with Chris again.
---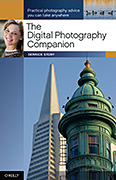 Now Available! The Digital Photography Companion. The official guide for The Digital Story Virtual Camera Club.
25 handy and informative tables for quick reference.
Metadata listings for every photo in the book
Dedicated chapter on making printing easy.
Photo management software guide.
Many, many inside tips gleaned from years of experience.
Comprehensive (214 pages), yet fits easily in camera bag.
---
Technorati Tags: Aperture, Derrick Story, digital photography, Technology, The Digital Story, Beijing