Macphun was working on their DAM module long before Adobe's recent announcement that Lightroom's perpetual license was ending. But they decided to tip their hand now in light of the news.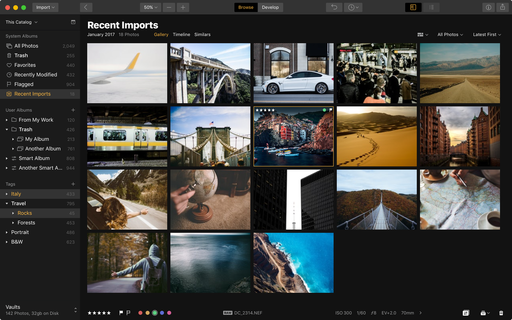 A sneak peek at Luminar's digital asset manager module coming in 2018.
For those tired of Adobe's "business first" attitude, or who don't need the more complicated approach presented by Capture One Pro, Luminar 2018 offers a very tempting alternative.
Luminar is already an amazing image editor - one of my favorites of all time. Later this year, it will run on both Mac and Windows platforms. Following that, it adds a beautiful, easy to use asset manager module. All of this for an affordable price with no monthly subscription fees.
If you're ready for a change, I would hang on to see what Macphun does with this new feature. There may be joy again in the world of photo management and editing.
Photos for macOS as Your Digital Darkroom
You can learn more about using Luminar as an editing extension in my lynda.com training, Photos for macOS: Advanced Editing Extensions.
And if you'd prefer to cozy up with a book, check out The Apple Photos Book for Photographers that features chapters on basic editing, advanced post processing, and editing extensions.
You can share your thoughts at the TDS Facebook page, where I'll post this story for discussion.