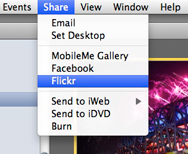 iPhoto is a terrific tool for managing your pictures on your Mac. But iPhoto 09 also lets you manage Web albums for Flickr, Facebook, and MobileMe. This helps you stay organized online as well as on your computer.
In my latest article for Macworld Magazine, Control your online albums with iPhoto, I show you how easy this process is.
Don't keep those great images all to yourself. Share them with friends, family, and even the world!
---