The new HDR Toning feature in Adobe Photoshop CS5
allows you to apply HDR-like tone mapping to a single image. This means you can go back through your picture library, open a shot in CS5, and start playing with HDR Toning. No more having to shoot a series of images to play with HDR!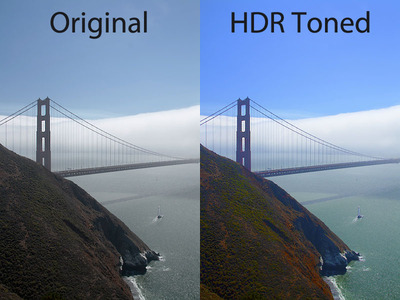 As cool as this technique can be, I think it's most effective as a layer to the image document instead of a standalone adjustment. But CS5 doesn't allow you to perform HDR toning to a layer. Fortunately, I learned a great workaround by watching this Chris Orwig video from his latest title, Photoshop and Bridge CS5 for Photographers New Features. The technique he recommends is to first duplicate your image in Photoshop (Image > Duplicate), then apply the HDR Toning to that picture. Once you have the effect you like, hold down the Shift key and drag the toned image on top of the original shot making it a layer. Now you have Opacity controls plus all of the other layer goodies giving you complete artistic freedom. He shows you how here:
I love the wild effects I can create with HDR Toning. And now, applying them as a layer allows me to revisit just about every image in my library.
More About Photoshop CS5
"Photoshop CS5" - Digital Photography Podcast 221
---
-
---