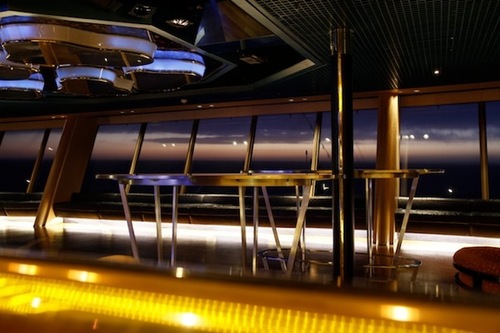 "It was the last day of the 7-day cruise between New York City and Bermuda, known to us as MacMania10," writes Randal Schwartz. "Derrick taught some very good classes on this cruise, but it was ending, and I was worn out. I had just finished shooting the last party of the day, and wandered from the private area for our group over to the bar proper around the corner. I didn't have a tripod with me, but I noticed that my Canon 7D sat nicely on the bar, pointed at the shiny surfaces of what normally passes for a dance floor in the 'Crow's Nest.'"
"I thought it would be interesting to try a nice long exposure here, although not so long that I would get a super-deep depth-of-field from a tiny aperture, so I settled on 2 seconds at ISO 200, which resulted in a f/5.0 aperture. Yes, it was very dark, almost so dark that I couldn't see most of image that this picture revealed."
"I carefully placed the camera on the bar, using the "live view" feature to adjust the frame and focal length. Ever so gently pressing the shutter, I got my 2 second exposure without movement (it took three tries :). I was really pleased with the variety of shapes and colors on the screen, but when I got it back into Aperture the next morning, I was amazed at the depth and range of colors! I was also quite pleased that the sunset in the windows had the perfect brightness level to enhance the picture. The range of colors and amorphous shapes -- even the out-of-focus reflection on the bar right next to the camera -- all add interesting elements to this picture."
Photo by Randal Schwartz. Click on image for larger version.
If you have a candid you'd like to share, take a look at our Submissions page, then send us your Grab Shot. We'll try to get it published for you on The Digital Story.
And you can view more images from our virtual camera club in the Member Photo Gallery.
---
The Digital Story Podcast App is the best way to stream or download weekly TDS podcast episodes. No more syncing your iPhone or iPod Touch just to get a podcast. And there's more! Tap the Extras button for free passes and discounts and the current Grab Shot by our virtual camera club members. Each podcast episode has its own Extras button, too, that contains more goodies such as pro photo tips. And the best part is, The Digital Story Podcast App is your way to help support this show.Download it today!
---
-
---