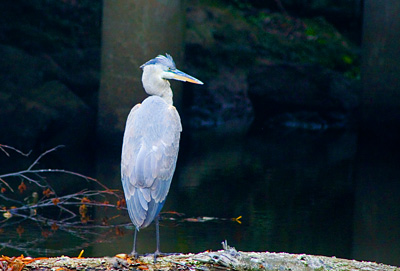 Blue Heron portrait jumps out because of the isolating background.
One of the situations I look for when shooting portraits, whether in the wilds or the local park, is an isolating background. I was very lucky here. I had been shooting gulls bathing in a fresh water pond where a creek flowed into the ocean. I noticed in the corner of my eye this Heron in the distance. The overcast light was illuminating him beautifully, but the background was dark from a concrete bridge. What a treat!
I switched to spot metering mode so I could base my exposure on the heron and not the background, then began shooting. I would capture about 10 frames, move closer a few feet, then shoot another series -- always being respectful of his space. Once I had the shot I wanted, I backed off and let him enjoy the rest of his afternoon.
Keep an eye out for this type of lighting situation. And if you can, get your shot without disturbing the subject. (Canon Digital Rebel XT, ISO 800, 75-300mm IS lens, 1/350 @ f-5.6)
Technorati Tags: image, photography, technique, tips