Full frame photography has grabbed many headlines in 2019. And for good reason, it's exciting to mount a top quality prime lens and photograph the world in a completely different way than you can with smaller sensor devices. But the prices have soared to $2,400 and beyond for the privilege.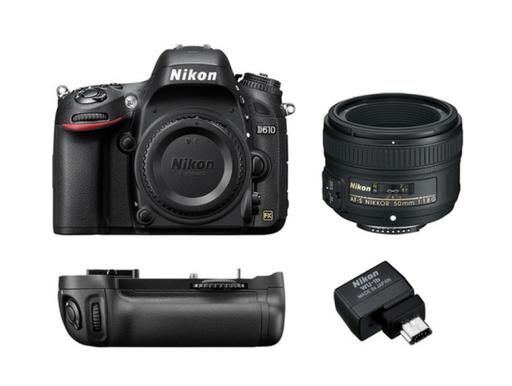 But what if you could snag a highly rated full-frame body for about a third of that, and it included a prime lens, battery grip, and 64GB memory card? That would be sweet, right?
Take a look at the the deal of the year: A brand new Nikon D610 DSLR with Nikkor 50mm f/1.8 G lens for $897. Then, toss in at no extra charge, a MB-D14 Multi Battery Power Pack, WU-1b Wireless Mobile Adapter, SanDisk 64GB Extreme PRO UHS-I SDXC Memory Card, Nikon Deluxe DSLR Digital SLR Camera Case (Black), and a downloadable licensed version of Skylum's Luminar 4. Yes, all of that for $897
DP Review concluded that, "The Nikon D610 brings full-frame capabilities to a larger audience while retaining most enthusiast-friendly features. Image quality at high ISO sensitivities is very good, and a wealth of customization options enables quick access to most shooting controls. The slight improvements and fixes over the D600 make it a strong competitor in this part of the market," and gave it a Gold Award. (March, 2014)
The Nikon D610 features:
24.3MP FX-Format Sensor and EXPEED 3 Image Processor
Multi-CAM 4800 Autofocus Sensor
Scene Recognition System and Exposure Metering
Full HD 1080p Movie Recording
Built-In Pop-Up Flash and i-TTL Support
Dual SD card slots
100 percent viewfinder coverage with high magnification
3.5mm stereo mic and headphone inputs
Outstanding high ISO performance in both JPEG and Raw files
Excellent weather sealing
Automated time-lapse function built in
HDR capture built in
Shutter mechanism has been tested for 150,000 cycles and incorporates a self-diagnostic shutter monitor
Sold for $2,000 body only in 2014.
And all of this in a body that is relatively compact for a full frame camera.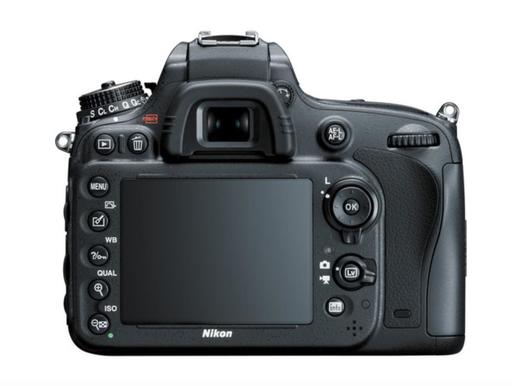 The MB-D14 Multi Battery Power Pack sells for $259, the Nikon AF-S NIKKOR 50mm f/1.8G lens is $177 on sale, and the WU-1b Wireless Mobile Adapter sells for $55. Add those up, and they total $491. And that's not even counting the SanDisk 64 GB card. Subtract those from the $897 price tag, and that means you can get a new full frame camera for just a bit over $400. Use Payboo financing, and you won't even have to pay the sales tax.
If you have a cache of manual focusing Nikon lenses, you can use them as well on the D610. My favorites include the 105mm f/2.5 AI-s, 50mm f/1.4 AI-s, and the 35mm f/2.5 Series E. If you CPU register them on the camera, you will get basic lens metadata as well.
Bottom line is this: you don't have to pay $2,400, $3,000, or more for a top quality full frame digital camera. DSLRs are here to stay, as is the Nikon F mount. If you don't mind a top notch DSLR that was popular 5 years ago, this deal is worthy of your attention.
There are product links in this article that contain affiliate tags. In some cases, depending on the product, The Digital Story may receive compensation if you purchase a product via one of those links. There is no additional cost to you.
You can share your thoughts at the TDS Facebook page, where I'll post this story for discussion.