Most of the locals here in Bermuda don't consider getting in the water before May 24. It's just too cold (72 degrees F) and the wind affects visibility underwater. But I won't be here in late May, so I donned my mask and snorkel and dived right in. For this trip, I used my Canon G9 in an underwater housing. It's great having Raw when working on underwater photos.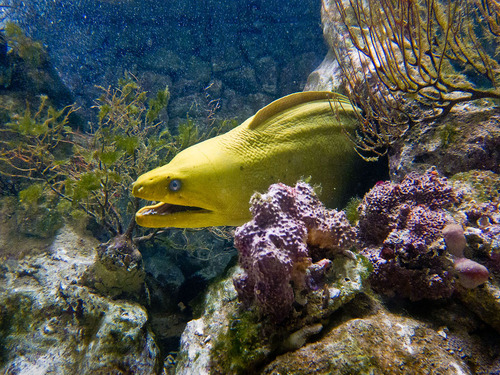 Photo of a Green Moray Eel by Derrick Story. Image process in Photoshop CS5 (Adobe Camera Raw). Click on image for larger version.
Unfortunately, the locals were right. I had great swims, but didn't capture any stunning underwater shots. So I went to the aquarium in Hamilton, Bermuda, and recorded this fun image of a huge Green Moray Eel with my Canon PowerShot S90
. I simply turned off the flash, raised the ISO to 800, and pressed the lens barrel against the glass. I processed the image in the latest version of Adobe Camera Raw included with Photoshop CS5.
I had a great time swimming and diving in Bermuda. But for this trip, knowing how to shoot in aquariums is what provided the fun shots.
---
-
---