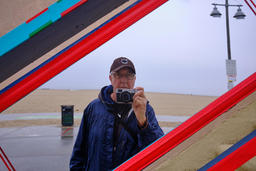 We had to make a lot of adjustments to our TDS photography workshop, but after one day on the streets of LA, I'm so glad we're here.
We've decided to forego public transportation as originally planned, and we're using Uber to get from one location to another. This makes it much easier to manage our contact with surfaces and it limits our close exposure to people we don't know.
But interacting with others is what we're here for. And if we don't do that, we can't tell their stories. We just have to do so at a reasonable distance.
Venice Beach Resident. Fujifilm X100V, ISO 200, 1/210s, f/3.6, Velvia film simulation. Photo by Derrick Story.
And those conversations have been really interesting. We've talked to shop owners who are seeing a steep decline in business, service providers who are trying to do their jobs while staying safe, locals and tourists who are watching a world that suddenly seems so unfamiliar to them.
Santa Monica Pier on a Friday Night. Fujifilm X100V, ISO 500, 1/9s, f/2, +0.7, Velvia film simulation. Photo by Derrick Story.
On one hand, this environment has made our jobs easier. The people who are in public are more accessible. If we walk into a small business, they have time on their hands and are often willing to talk with us. Folks on the street seem interested in sharing their views. And there isn't the crush of traffic that we would normally experience in LA. It's much easier to get around.
"Rest in Peace" - Fujifilm X100V, ISO 200, 1/170th, f/3.2, Velvia film simulation. Photo by Derrick Story.
It's not like things were perfect before COVID-19. The loss of Kobe Bryant and his daughter is still in the air and has had a tremendous impact in Southern California. And economically, it's been very uneven.
Thankfully, nature has brought rain, however. And its welcome cleansing is having a positive effect on the city, physiologically if nothing else.
TDS Street Photographers
As for us, we're going about our jobs as well. We're doing our best to document this moment in time, share our thoughts and feelings with each other, and appreciate those we meet and who let us tell their stories.
I feel lucky to have this experience.
You can share your thoughts at the TDS Facebook page, where I'll post this story for discussion.