This week on The Digital Story Photography Podcast: Eye-Fi Rubbed RAW, Expensive Filters, Lowepro Reboot, Planning and Staging an Exhibition - All of this and more on today's show with Derrick Story.
Weekly Update - Lowepro launches weather-proof Fastpack backpacks for traveling photographers - "Both bags include Lowepro's All Weather AW Cover, which is basically a built-in raincoat that can be untucked and pulled over the bag in a rain shower. The tablet sections feature what Lowepro calls CradleFit padding that grips and suspends the tablet so that it remains protected in the event of a drop. Using compression straps the bags are designed to also attach to the handles of rolling luggage, and both can support a tripod via straps and a mesh pocket."Â  (Source: DP Review)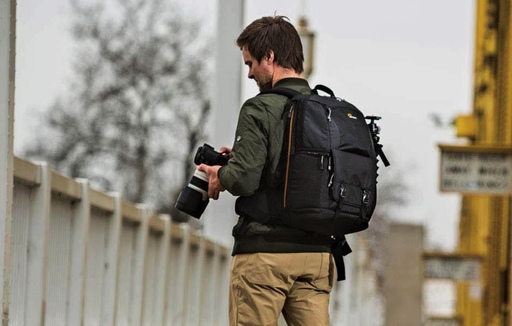 In other news... Eyefi's newest Mobi Pro SD card lets you sync RAW photos - "Self-proclaimed as 'the most powerful wireless SD card ever', the Mobi Pro sets itself apart from Eyefi's lower-level Mobi cards by now allowing you to transfer RAW files to your desktop or mobile device, straight from your camera." (Source: Imaging-Resource)
Story #1 - Think of Your Filters as Very Thin Lenses - I just spent $48 for a Hoya 46mm EVO Antistatic UV(0) Filter. Why would I do such a crazy thing? Here are a few reasons:
Absorbs Ultraviolet Light (helping to reduce bluish cast)
16-Layer Super Multi-Coating (99.8 percent light transmission )
EVO Antistatic Coating Repels Dust
Water, Stain, and Scratch-Resistant
Optical Glass Construction
One-Piece Low-Profile Filter Ring (lessens the likelihood of vignetting)
Front Threads for Filter Stacking
And then I add a few more...
Story #2 - You Can't Beat the Price for the Fotor Image Editor - I've been playing with a lovely, smart and free image editor called Fotor. Will it replace Aperture? No way. But it does leverage Mac OS X technologies in an elegant, fun package. I discuss in this segment of the show.
Story #3 - From the Screening Room - Planning and Staging an Exhibition with Konrad Eek.
You can watch Konrad in action by visiting the TDS Screening Room at lynda.com. While you're there, you can start your 7 day free trial to watch all of Konrad's movies, plus every other title in the library (including over 20 by yours truly).
Virtual Camera Club News
The TDS Bodie/Eastern Sierra Photography Workshop is Sold Out.
News from Red River Paper: Have you made your archive 6 prints yet for 2015? The best backup system in the world is high quality prints properly stored. I recommend that photographers do a print run of their best twice a year. Here's why.
Thanks to everyone who recently reviewed the TDS Podcast in iTunes!
BTW: If you're ordering through B&H or Amazon, please click on the respective ad tile under the Products header in the box half way down the 2nd column on thedigitalstory.com. That helps support the site.
Download the Show
In addition to subscribing in iTunes, you can also download the podcast file here (35 minutes). You can support this podcast by purchasing the TDS iPhone App for only $2.99 from the Apple App Store.
More Ways to Participate
Want to share photos and talk with other members in our virtual camera club? Check out our Flickr Public Group. And from those images, I choose the TDS Member Photo of the Day.
Podcast Sponsors
lynda.com - Learn lighting, portraiture, Photoshop skills, and more from expert-taught videos at lynda.com/thedigitalstory.
Red River Paper -- Keep up with the world of inkjet printing, and win free paper, by liking Red River Paper on Facebook.
SizzlPix! - High resolution output for your photography. You've never seen your imagery look so good. SizzlPix.com. SizzlPix! now is qualified for PayPal "Bill Me Later," No payments, No interest for up to 6 months, which means, have your SizzlPix! now, and pay nothing until May!
Want to Comment on this Post?
You can share your thoughts at the TDS Facebook page, where I'll post this story for discussion.