This is The Digital Story Podcast #660, Nov. 6, 2018. Today's theme is "How to Manage Holiday Sales Temptation." I'm Derrick Story.
Opening Monologue
We're entering that time of year when retailers dangle tempting deals before our eyes in the hopes that we'll make a big ticket purchase. More often than not, these items are a bit past their prime, but still quite serviceable. So, what's the best strategy for evaluating what is a great deal and a perfect fit, as opposed to a mere impulse buy? I'll share my sure-fire approach on today's TDS Photography Podcast.
How to Manage Holiday Sales Temptation
I've already fought off my first impulse buy of the season. And it required some discipline to do so.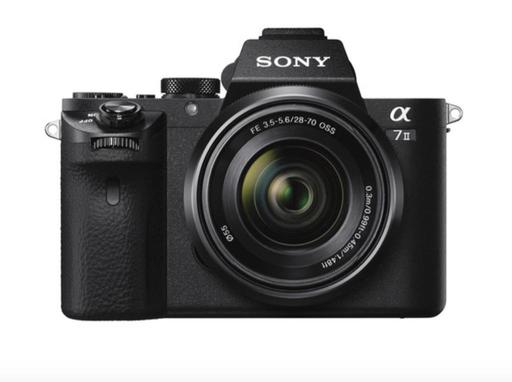 B&H Photo is offering the Sony Alpha a7 II Mirrorless Digital Camera with 28-70mm Lens Deluxe Kit for $998. The kit included the full frame Sony, a Sony 28-70mm zoom, spare battery, charger, and 64GB memory card for less than a grand. If you buy the camera alone with no lens or accessories, it's $1,400. You can see why my pulse started racing.
But I have a system for evaluating such mind-bending deals. Five steps to sane purchasing. So let's see where we end up after walking through the process.
Learn more about the camera - I pulled up a few reviews about the Alpha a7 II. First of all, it's not one of Sony's best low-light performers. It was release in 2015 and has had a couple firmware updates. But if I were to go full frame, I would want to shoot at high ISOs. And 24MP isn't more than I already have.

Is the 28-70mm a lens that I would buy normally? - Again, after some research, many users feel that it's soft at the corners. It's a tad bulky, but not exceptionally well made. And its maximum aperture is f/3.5-5.6. I would rather have a compact, sharp, fast, prime.

How would I use it, exactly? - It wouldn't be for commercial shoots because I don't have any glass besides the mediocre zoom. It's too big for travel photography. The shutter is too loud for street photography. So it doesn't fill a gap in my equipment arsenal.

Do I have a $1,000 to burn? - Well, now that you mentioned it, I don't. If I were purchasing an item that could generate more work or better art, yes, I could afford the grand as a business investment. But I don't have that kind of money to spend on a whim.

Would I regret my purchase after the thrill is gone? - Most likely yes. I just went through this process with the Fujifilm XF10. After a month of answering the above questions and shooting with the camera, I opted to buy it. Two weeks later, I'm more thrilled than ever to have it. I don't think that would be the case with the Sony.
Don't get caught off guard. Build your vetting process now, so when that super-tempting offer appears before your eyes, you have a system to determine if it's the right bargain for you.
The Portfoliobox Inspirational Photographer
I got to thinking about some of the great PortfolioBox photographers out there, and how they could inspire us both artistically, but also in terms of our presentation online. So I started digging.
Each week for the month of November, I'm going to feature an inspirational photographer who uses Portfoliobox as his/her platform for presenting their work. This week I want to point you to Raphaël Heymann. His still lives are incredible, true works of art. And his use of Portfoliobox complements his work. You've got to check out his site.
If you've signed up for a Portfoliobox Pro account, and have published at least one page, then send me the link to that site. Use the Contact Form on the Nimble Photographer and provide your name, the link, and the subject of the page or site you've published. I will add it to our PortfolioBox Pro Directory.
To create your own Portfoliobox site, click on the tile or use this link to get started. If you upgrade to a Pro site, you'll save 20 percent off the $83 annual price.
Capture One Pro 11.3 and Fujifilm RAW Processing
I was among the many pleased photographers who exclaimed, "Finally!" when Phase One announced their improved Fujifilm RAW support with version 11.3.
This highlight, of course, is bringing the Fujifilm GFX 50S into the mix. But a dozen Fujifilm cameras and another half dozen lenses were included as well. Among them was my humble, but loved, Fujifilm XF10 compact with APS-C sensor. I was dying to seeing how its RAW files were decoded with Capture One Pro. I was not disappointed.
The XF10 Jpegs are beautiful. And I shoot in that mode most of the time. But I've programmed the back Function button to switch to RAW+Jpeg when I want to extract as much image information as possible. And now, thanks to Capture One Pro 11.3, I can do so with confidence.
Coming Next Week - The 2019 TDS Workshop Season
Is 2019 the year that you will join me and your peers for a photo adventure? I hope so. Next week I will lay out the entire 2019 season for you, and open the reserve list so you can secure your spot. Be a part of the action!
Updates and Such
Inner Circle Members: Continuing this month - Photo Critique. Check out the post on Patreon. Send your images to me with the subject line, "Photo Critique." More details on our Patreon page.
B&H and Amazon tiles on www.thedigitalstory. If you click on them first, you're helping to support this podcast. And speaking of supporting this show, and big thanks to our Patreon Inner Circle members:
And finally, be sure to visit our friends at Red River Paper for all of your inkjet supply needs.
See you next week!
More Ways to Participate
Want to share photos and talk with other members in our virtual camera club? Check out our Flickr Public Group. And from those images, I choose the TDS Member Photo of the Day.
Podcast Sponsors
Red River Paper - Keep up with the world of inkjet printing, and win free paper, by liking Red River Paper on Facebook.
Portfoliobox - Your PortfolioBox site is the best way to show off your best images.
The Nimbleosity Report
Do you want to keep up with the best content from The Digital Story and The Nimble Photographer? Sign up for The Nimbleosity Report, and receive highlights twice-a-month in a single page newsletter. Be a part of our community!
Want to Comment on this Post?
You can share your thoughts at the TDS Facebook page, where I'll post this story for discussion.