This is The Digital Story Podcast #638, June 5, 2018. Today's theme is "Scott Kelby's Surprising Printing Talk at Photoshop World" I'm Derrick Story.
Opening Monologue
I was anticipating a number of topics covered at the Photoshop World Keynote address. But the importance of printing was not one of them. Yet, after the T-Shirt tosses and Beatles parodies, Scott Kelby maneuvered from the importance of backing up to the even greater value of printing. The five points that he used to build his argument is the top story of today's TDS podcast.
"Scott Kelby's Surprising Printing Talk at Photoshop World"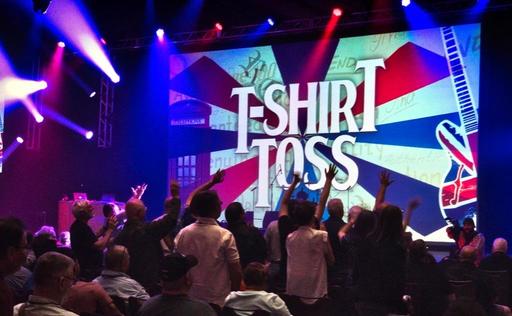 It was interesting how Scott led into his printing talk - by outlining the shortcomings of most backup systems. Prints are the exception. They are device independent. He then told a story to illustrate may of the reasons why he thinks prints are important.
Here are the five points that Scott covered in his talk:
Connection to the Viewer - Holding a print elevates the experience to a whole new level.

Stand Out from the Competition - The gift of a print blows away an email attachment.

Impact - A 13"x19" print has more impact than tiny images we view on our digital devices.

A Print Has Value - If you were willing to pay $200 for a print to hang on your wall, how much would you spend for a digital version of it on a flash drive?

Protect Your Visual History - Will our generation be able to leave behind a visual history as rich as what our parents left for us?

You can imagine how thrilled I was by this talk...

The Portfolio Project - Week 5 - James Batt Wildlife Photographs

James Batt is our featured photographer this week with his Portfoliobox site, www.jamesbatt.com.

His incredible collection of bird images are categorized in a beautiful, wildly educational way. I'm keeping his page bookmarked not only for its beauty, but for reference as I enjoy my own birdwatching activity. You have to check this out.

If you've signed up for a Portfoliobox Pro account, and have published at least one page, then send me the link to that site. Use the Contact Form on the Nimble Photographer and provide your name, the link, and the subject of the page or site you've published.

I'm also building a directory of user sites and publish it on TheDigitalStory. And all through the month of June, I will feature one of those sites on this podcast.

I love using Portfoliobox for these reasons:

My images look great, both on my computer and on my mobile devices.
It's easy to use. Without any instruction, I'm adding a high quality page in just minutes.
It's affordable. There's a free plan and a Pro version. The Pro version is only $82.80 per year or $8.90 per month USD, and that's before the 20 percent TDS discount.

Highlights with the Pro Plan

In addition to unlimited pages, you get a personalized domain name, web hosting, and up to 1,000 images.

Get Started Today

Just go to the TDS Landing Page to get started with your free account, or to receive the 20 percent discount on the Pro version. And if you want to see the page that I've begun, visit www.derrickstoryphotography.com.

Interview with Rick Sammon

After reading Rick's new book, The Route 66 Photo Road Trip, I sat down with him in Orlando for this interview. My opening question, "Rick, why do we need another book about Route 66?" Here's what he had to say.

Signed Print Winner!

Congratulations to Craig Tooley who wrote, "I very much enjoyed your title on Luminar 'Mastering the Basics,' as with all of your titles, very well done."

Craig will receive the signed print from the Maui Project. Woohoo!

Reservation Forms have been sent for the Burney Falls and Lassen Volcanic National Park Workshop

We have our cabin reservations secured for Sept. 27-29, 2018 for the Burney Falls and Lassen Volcanic National Park Workshop. I sent out reservation forms this last weekend. So if you are on the reserve list, you should have received an invite.

Updates and Such

You can become a member of our Inner Circle by clicking on this link or by clicking on the Patreon tile that's on every page of The Digital Story.

B&H and Amazon tiles on www.thedigitalstory. If you click on them first, you're helping to support this podcast. And speaking of supporting this show, and big thanks to our Patreon Inner Circle members:

And finally, be sure to visit our friends at Red River Paper for all of your inkjet supply needs.

See you next week!

More Ways to Participate

Want to share photos and talk with other members in our virtual camera club? Check out our Flickr Public Group. And from those images, I choose the TDS Member Photo of the Day.

Podcast Sponsors

Red River Paper - Keep up with the world of inkjet printing, and win free paper, by liking Red River Paper on Facebook.

Portfoliobox - Create the site that your best images deserve by visiting Portfoliobox. And get a 20 percent discount by using our landing page!

The Nimbleosity Report

Do you want to keep up with the best content from The Digital Story and The Nimble Photographer? Sign up for The Nimbleosity Report, and receive highlights twice-a-month in a single page newsletter. Be a part of our community!

Want to Comment on this Post?

You can share your thoughts at the TDS Facebook page, where I'll post this story for discussion.