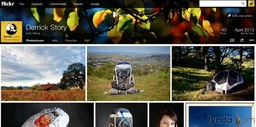 If you're maintaining a Google+, Facebook, or Flickr page, you have a cover photo that spans from one side to the other. It's an opportunity to make a positive first impression when someone visits your site.
When's the last time you refreshed this image? Or have you ever and are using the default picture that was provided for you?
Flickr was the latest to switch to this look for users' home pages. And there are still a lot of default covers out there. You might want to take a moment and refresh yours. Actually, I think it's a good idea to spruce up the page every month or so.
Here's a short video on how to update your cover photo for flickr.
While you're at it, you might want to take a look at your other pages too. Maybe you've shot something recently that would make a great cover image. It only takes a few seconds to refresh your home page. And it feels so good!
---
Flickr Essential Training 2013 - I explore the entire Flickr universe, mobile and computer, in my lynda.com title, Flickr Essential Training. Stop by and take a look.
Want to Comment on this Post?
You can share your thoughts at the TDS Facebook page, where I'll post this story for discussion.