Once my RAW file sequences are safe and sound in Capture One Pro, I can open them in Aurora HDR for finishing the work. Here are the four basic steps I use to make this connection.
Step 1 - Select your three shots in Capture One, then use the Open With command. I right-click on one of the thumbnails to reveal this popup menu.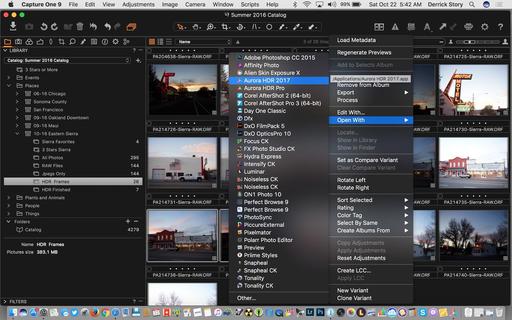 Step 2 - Check the Alignment box in the following screen, and make any additional choices required for your images.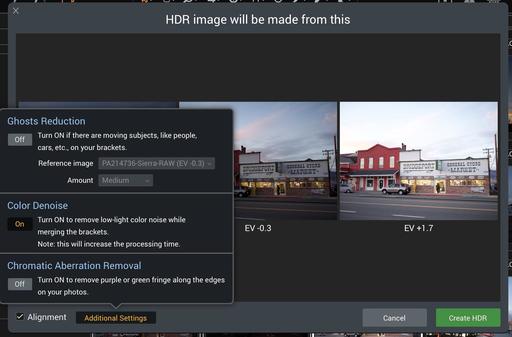 Step 3 - Once Aurora HDR has processed your images, you can choose from the presets to get the look you want. Presets are revealed by clicking on the big, round icon in the lower right corner.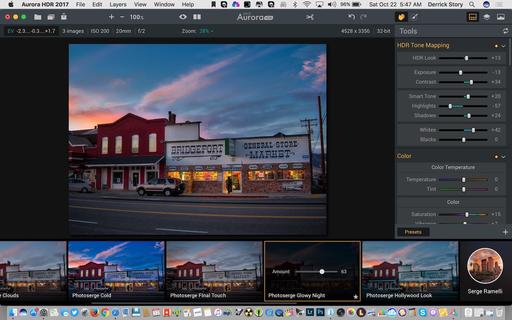 I often adjust the amount of the preset, then fine tune its settings by working the sliders in the Tools panel.
Step 4 - Export the final version of the shot by choosing File > Export to Image in Aurora HDR. Since I'm usually sending this photo back to Capture One, I export a full-size, 8-bit Tiff file. I then import that Tiff back into Capture One and keep it in the same project as the original shots.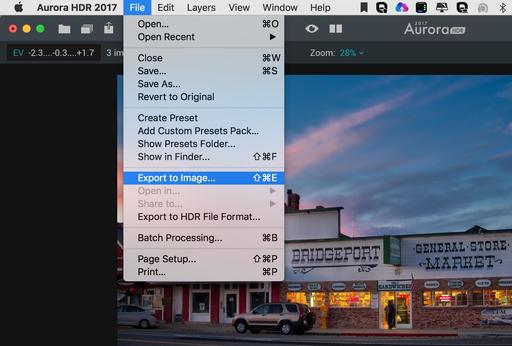 The exported image can be worked on some more with Capture One tools. I keep the finished HDRs in their own album, within the Project. That way they're easily accessible when I want to display them or export out as lower resolution Jpeg.
If you want to save the work you've done in Aurora HDR, then use the Save command. That file can be reopened in the state that you left it for further fine tuning.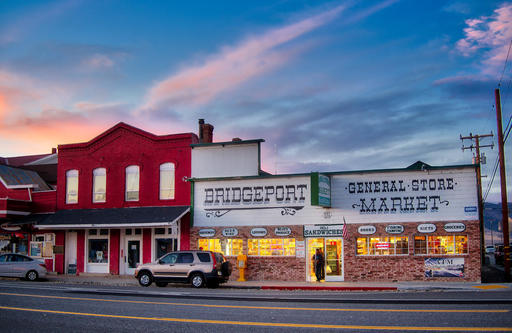 "Bridgeport General Store at Dusk" Olympus OM-D E-M5 Mark II with Panasonic 20mm f/1.7 prime at ISO 320, handheld. Images by Derrick Story.
Capture One and Aurora HDR are a terrific tandem for creating and managing high quality dynamic range images from your RAW file sequences.
More Capture One Pro Tips and Techniques
Improve your skills by watching Capture One Pro Essential Training now available on lynda.com. More than 5 hours of tips, tricks, and techniques. Plus many free movies using advanced techniques.
I've also created a dedicated Capture One Pro Training page on The Digital Story. You can follow all of the tips and techniques that I publish in one convenient spot.
Thinking About Making the Transition from Aperture or Lightroom? - Download my free eBook titled, Rocky Nook's Guide to Moving to Capture One Pro. I show you the steps to create a test library, then build the foundation for a smooth transition to Capture One Pro.
Want to Comment on this Post?
You can share your thoughts at the TDS Facebook page, where I'll post this story for discussion.