This is The Digital Story Podcast #546, August 13, 2016. Today's theme is "The Black & White Project." I'm Derrick Story.
Opening Monologue
Over the past few days, I've been seeing the world in Black & White. "How?" you may ask. It's been through the viewfinder of my Olympus OM-D E-M5 Mark II, set in monochrome mode. And as a result, I saw the rugged landscape of Pt. Reyes in a whole new way. What I discovered is the subject of today's podcast.
The Black & White Project
I had toyed with this idea before. But after spending an entire day scouting for the TDS Pt. Reyes Photography Workshop, it dawned on me that the foggy mornings, hillsides covered in tall grasses, and charismatic trees were perfect elements for monochrome work. So that night, I pitched the idea to my workshop group.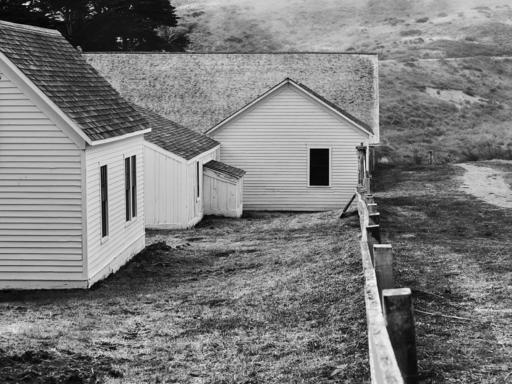 The key elements go like this...
The project works best for those who have mirrorless cameras with electronic viewfinders that let photographers compose the scene in monochrome.
Shooting in RAW+Jpeg allows for the Jpegs to be B&W, while still having a full color RAW of the scene.
With the absence of color, I found it easier to work with the main element of the composition.
I also slowed down, carefully zooming in and out looking for just the right arrangement of elements.
Then, on the computer, I found it interesting to see which shots looked better in B&W, and which ones in color, And shots were clearly one or the other.
I've published a small gallery of photos from this project so you can see what I was seeing through the viewfinder all weekend. I have to tell you, it was a blast.
In the News
How to Figure out what to charge for your next portrait assignment via The Phoblographer.
This is a challenge for freelancers and emerging pros alike. How much do you charge for a portrait shoot? The key is to analyze all the steps involved in the project, and the time that it takes to accomplish them, then attach a dollar amount to the endeavor.
I break my shoots into 3 categories: preparation, actual shoot time, and post production. All of those have to be accounted for. But also, you need to consider consultation, travel costs, and gear investment. This article helps put all of these things, and more, into an equation that will hopefully lead to to determining how much to charge.
Hedge Free License
Not sure if Hedge will improve your workflow speed drastically? Go to hedgeformac.com/tds, download the app, and you'll receive a free 10-day pass to give it a thorough test run. If you like, there's a link to a 20 percent discount there for you too."
And if you're a Lightroom user, try the free trial and think about how this could help your Lightroom import experience. Next week I'm going to discuss how Hedge can better integrate with Lightroom, and we want to hear your thoughts.
Keep these three things in mind...
Hedge is the fastest app for importing and backing up media on macOS.
Import multiple sources to multiple destinations, at the same time.
Every file copied by Hedge is cross-verified with the original.
There's a free version and a premium version. Use this URL, hedgeformac.com/tds and save 20 percent off the price of the pro version that provides the full Hedge experience with Fast Lane copies, unlimited simultaneous transfers, plus NAS and RAID support.
SmugMug is Helping Save 200 Million Photos Lost when Picturelife Died
When photo storage site Picturelife shut down, users were left high and dry without a way to access and/or download the images they had stored there. This didn't sit well with SmugMug, who reached out to Picturelife and, today, is helping reunite those photographers with their lost images.
In all, some 200 million files were lost into the ones and zeroes of Internet history when Picturelife went under--but out of this sad tale came 200 million opportunities for SmugMug to be both altruistic, and maybe snag a customer or two for themselves.
It's important to note that it will cost you nothing to take advantage of this offer from SmugMug. It's something SmugMug was adamant about.
You can read more about this and get the link to begin retrieving your images in this Petapixel article.
Updates and Such
The fourth episode of The Nimble Photographer Podcast is not posted for our Patreon supporters. If you wish to join the inner circle to support this show, click on the Patreon tile that's on all the pages of The Digital Story.
And finally, be sure to visit our friends at Red River Paper for all of your inkjet supply needs.
I'm currently working on an article that will show you the easiest way to print fine art greeting cards with Capture One Pro and Red River Fine Art Card Stock. I think C1 users are going to dig this. And I'll let you know as soon as it's live.
See you next week!
More Ways to Participate
Want to share photos and talk with other members in our virtual camera club? Check out our Flickr Public Group. And from those images, I choose the TDS Member Photo of the Day.
Podcast Sponsors
Red River Paper - Keep up with the world of inkjet printing, and win free paper, by liking Red River Paper on Facebook.
MacPaw Creators of CleanMyMac 3 and other great software for Apple computers. Visit www.macpaw.com today.
Hedge for Mac - The fast solution for moving photos and videos from memory cards to drives, or drives to drives for that matter. Learn more at Hedge for Mac.
The Nimbleosity Report
Do you want to keep up with the best content from The Digital Story and The Nimble Photographer? Sign up for The Nimbleosity Report, and receive highlights twice-a-month in a single page newsletter. Be a part of our community!
Want to Comment on this Post?
You can share your thoughts at the TDS Facebook page, where I'll post this story for discussion.