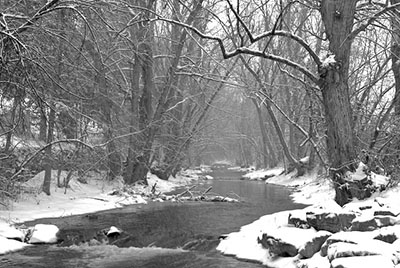 There are two rules in cold weather photography: 1) Protect you, 2) Protect your gear. Make sure you have layers of clothing that can go on and off as you work in the field. Be prepared for moisture so that you can stay dry. You never want to mix being wet and cold at the same time. It can lead to disastrous results. And be sure you have protection for your hands. Metal tripods become icy uncomfortable to hold.
As for your gear, your bags should be weather proof. If you use Lowepro bags, the "AW" models have an outer cover that's a terrific extra layer of protection. Keep spare batteries in your pocket, not your bag, so they stay warm. And finally, let your gear warm up in cases or Ziploc bags before exposing it to indoor temperatures. Otherwise condensation will form on your camera and lens.
Here's a good article by Laura Charon titled, Cold Weather Photography that provides additional insights (and some great photos!).
Photo of Boulder Creek in the Snow by Mark Castleman.
---
-
---