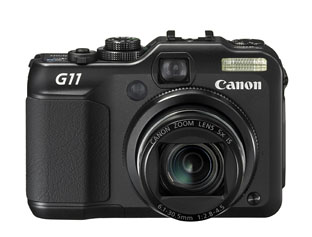 Both the just-announced PowerShot G11 and the PowerShot S90 only capture in Standard Definition video (640x480). What? In the whacky world of hardware engineering, where we gain a high-sensitivity 10 MP sensor with DIGIC 4 image processing providing better noise reduction, being referred to as a "Dual Anti-Noise System," we don't get what Canon is pushing everywhere else: HD video.
It reminds me of the time a few years back when RAW was the premium feature photographers sought. Suddenly we saw RAW support dropped from high-end compacts, such as the Canon G series, and only available in DSLRs. Now we have RAW in the S90 and G11 (RAW returned to the G series with the G9), but HD video is omitted... even though we get HDMI output on the G11, not to mention the Vari-angle LCD that's perfect for video capture.
There might be an overriding technical reason for no HD video on these new cameras. And I would love to hear it. Because right now it feels a little like a sales and marketing decision. I hope it isn't.
---
-
---