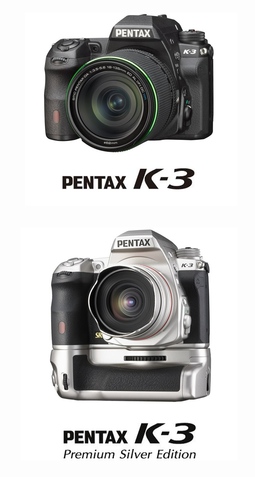 Forget having to choose between anti-aliasing or non-anti-aliasing models for your high end DSLR. Pentax just announced the Pentax K-3 ($1,296) that features a ground-breaking anti-aliasing simulator.
Pentax writes: "The simulator applies microscopic vibrations to the image sensor unit at the subpixel level during image exposure, generating the same level of moiré-reduction effect as an optical anti-aliasing filter. Unlike an optical anti-aliasing filter that always creates the identical result, this innovative simulator allows the user not only to switch the anti-aliasing filter effect on and off, but also to adjust the level of the effect. This allows the user to set the ideal effect for a particular scene or subject."
Additionally, the K-3 offers:
23.35MP APS-C CMOS sensor
Newly designed SAFOX 11 AF module with 27 auto focus points
Full HD 1080i/p video recording
3.2" 1,037k-Dot LCD monitor
Optical 0.95x Mag. pentaprism viewfinder
Continuous shooting up to 8.3 fps
In-Camera Shake Reduction Stabilization
Dual SD memory card slots
Weather-Sealed Magnesium Alloy body
The K-3 doesn't have built-in WiFi, but Pentax did develop the FLU card: "This SDHC memory card offers wireless LAN connection to a compatible smartphone. Via a designated Web browser, the user can inspect a live-view image, release the K-3's shutter, shift the AF sensor point, and check images recorded on the card using the smartphone screen." We'll see how this approach compares once I've had a chance to test it.
Overall, this camera looks like a winner. I've used the Pentax K-2 extensively, and this model improves upon what I considered one of the best APS-C DSLRs available. I'll try to get my hands on a K-3 for testing.
Want to Comment on this Post?
You can share your thoughts at the TDS Facebook page, where I'll post this story for discussion.
---