If you're looking for a new goodie to spruce up Photos for macOS, you might want to take a look at Polarr Photo Editor, currently on sale for $1.99.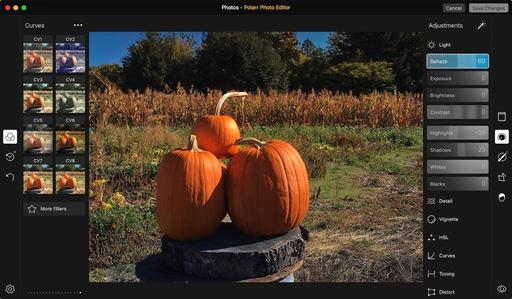 You buy it as an app, but doing so also loads an editing extension that works great in Photos for macOS. First launch the Polarr app to make sure everything is working OK. Then close it. Next go to System Preferences > Extensions > Photos and check the box next to Polarr. It's now ready to go as an extension.
Launch Photos for macOS and choose a picture to edit. Select Polarr from the list of Extensions in Edit mode. Your image will open in the Polarr interface. There are numerous filters to browse on the left side of the screen, and plenty of adjustments on the right.
The adjustments include all of the usual suspects for light and color, but there are plenty of surprises too, such as debase, distort, and grain. You can check your progress with the before/after button in the lower right corner.
The most recent version includes copy/paste adjustments. That might not seem practical, since you can only work on one image at a time with editing extensions, but Polarr remembers your copied adjustments for the next picture you open with the tool. Nice. It's actually quite useful.
There are plenty of tools and filters to explore here. And you certainly can't argue with the $1.99 sale price. Load it up this weekend and see what you can do with it.
Master Photos for macOS
(It's More Powerful than You Think)
VIDEO TRAINING
Want to see how easy it is to apply local edits to your images using Editing Extensions? Take a look at my new lynda training, Photos for OS X: Extensions for Local Adjustments.
And for an overview of all of the great features in Photos, my Photos for OS X Essential Training will get you up and running quickly. I cover everything you need to know to get the most from this surprisingly powerful image management application.
INSTRUCTIONAL GUIDE
The Apple Photos Book for Photographers
For photographers who are more than just casual snapshooters, or who are making the transition from Aperture or iPhoto, The Apple Photos Book for Photographers shines a light on the sophistication of this app and the ecosystem it taps into. Available as an eBook now, and coming to print later this year.
Want to Comment on this Post?
You can share your thoughts at the TDS Facebook page, where I'll post this story for discussion.