Macphun is offering a couple of sweet deals on two excellent software bundles, both of which I use regularly. In fact, I designed a set of presets, which are one of the bonus items in this offer. (And they are very helpful!) These offers are good through December 1st.

Luminar Deal
In addition to being one of the best (and creative) image editors available for the Mac, Luminar is my favorite editing extension for Photos for macOS, and a friendly addition to Lightroom. The Black Friday deal is really about the lowest price available, plus the bonus items. You can Luminar order here.
Luminar Bonuses
Africa with Athena Video by Athena Carey ($60 value)
Cameras in the Wild ebook by Contrastly ($29 value)
Making the Image ebook by Dan Bailey ($25 value)
Luminar Presets pack ($25 value) - I designed a set of presets that's included in this presets pack.
Black Friday Pricing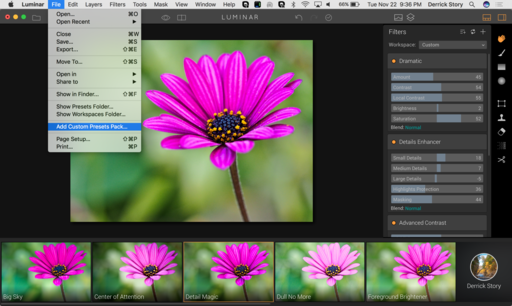 It's easy to add custom presets to Luminar. Just go to File > Add Custom Presets Pack and navigate to your (free) new presets (mine are included in this offer).
Aurora HDR 2017
Aurora HDR 2017 has become my default HDR processor. It runs wonderfully on my Mac laptop, includes a variety of interesting presets, and has every fine-tuning adjustment that a discriminating photographer would want. So you can use it in "one click" mode, or noodle with an image for an hour. It's up to you. Plus, I like it as an editing extension for Photos and a plug-in for Lightroom. You can order Aurora HDR 2017 here.
Aurora HDR 2017 Bonuses
The Essentials of Street Photography & The New York Photographer's Travel Guide by James Maher ($25 value)
20 Minute Video Training from Trey Ratcliff ($20 value)
Holiday Preset Pack ($25 value)
Black Friday Pricing
Retail Value: $169
Special Black Friday Price for New Users: $89
Special Black Friday Upgrade Price for existing Aurora HDR Owners: $79
Special Black Friday Upgrade Price for existing Aurora HDR Pro Owners: $49
Make 2017 the Year of Creative Photography
These two apps will integrate with any workflow, ranging from Capture One Pro, to Photoshop, to Lightroom, to Photos. Yet, they will allow you to process your images in new and interesting ways. Plus, with these great bonuses, you can quickly up your game by learning tips from the experts.
Want to Use Luminar and Aurora HDR 2017 as Editing Extensions?
The Apple Photos Book for Photographers
Apple's Photos for macOS app was designed from the ground up to help you organize, edit, and share your pictures and videos. While the interface appears simple, finding the hidden nuances of Photos is not so straightforward. There's more to this app than initially meets the eye.
For photographers who are more than just casual snapshooters, or who are making the transition from Aperture or iPhoto, The Apple Photos Book for Photographers shines a light on the true sophistication of this app and the ecosystem it taps into. From the point of view of a working photographer, Derrick provides everything you need to know to get the most out of the imaging tools built into macOS and iCloud.
This book is up to date with the current version of Photos that shipped with macOS Sierra. It includes discussions on Memories and object recognition, plus all of the tools that make this a compelling application for Mac-toting photographers.
You can order your own copy directly from the publisher, Rocky Nook. Use coupon code DSAPPLE35 for a 35 percent discount. We recommend the Print & eBook Bundle that gives you the Kindle, iBook, and PDF versions, plus the lovely print edition.
You can also order your copy on Amazon.com
You can share your thoughts at the TDS Facebook page, where I'll post this story for discussion.