This is The Digital Story Podcast #840, April 26, 2022. Today's theme is "Time for a New Personal Project." I'm Derrick Story.
Opening Monologue
Photography is most interesting when we continually challenge ourselves. And the best way to do that is through personal projects that take us just a bit out of our comfort zone. Now that we're well into 2022, it's time to find that next personal project for you, and that's the top story in today's TDS Photography Podcast.
Digital Photography Podcast 840
Tune-In Via Your Favorite Podcast App!

---

Apple Podcasts -- Spotify Podcasts -- Stitcher

Podbean Podcasts -- Podbay FM -- Tune In
Time for a New Personal Project
I'm in the business of reinvention. That wasn't my intention, but it certainly has worked out that way. So I'm very familiar with personal projects that help open new doors.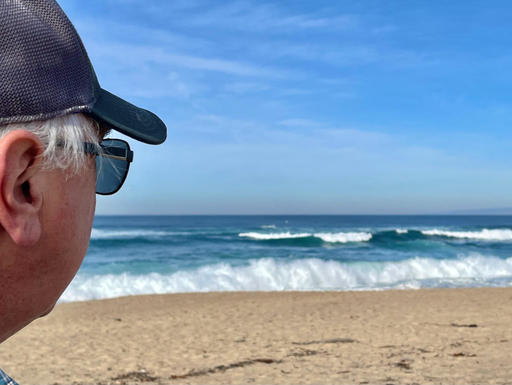 I'm talking about endeavors that you may have had an interest in, but until this point, stayed on the sidelines. What kind of projects could those be? Let's take a look at 5 possible examples.
Portraits - The pandemic has certainly confined most of us to our corners. But maybe it's time we start working with people again, and even more creatively, begin making portraits. There are so many different types, outdoors with fill reflectors, natural light window, flash and soft boxes. Pick one and shoot a series.

Macro - Very few subjects garner attention like a beautiful macro photo of an insect or flower. We often have the tools already, but never really got serious about taking our close-up work to the next level.

Action - Fast cars, horses, and even kids playing soccer present their own unique challenge, both technically and artistically. I'm not talking just any old action photo, but one that is beautiful and captivates the viewer.

Infrared - This was my 2020 personal project, and it has lead to a series of satisfying online workshops, with our next installment beginning in May. IR has so many facets, both technically and artistically, and it's a true challenge to merge the two camps together into an image that is at once unique and beautiful.

Analog - So you think you're a good photographer? Load up a roll of color film and see how you feel when it comes back from the lab. My guess is that you will find it humbling. But don't stop there. Challenge yourself to create a series that satisfies you technically and appeals to others artistically.
If you have additional ideas for personal projects, please send them to me or post them on our Facebook page in the comments sections for this podcast. I may just share them in a future show.
Good luck with your project. I hope you helps you expand your photography boundaries.
The 2022 TDS Workshops Update
We have great events lined up for this year, and there are a few more coming. Here's a recap of what we have so far:
May 2022 - Infrared Photography Workshop (online event) - Sold Out
August 2022 - Ultimate B&W Photography Workshop (online) - 2 Seats Available
Sept. 2022 - Eastern Sierra Photo Workshop (physical) - 2 Seats Available
Nov. 2022 - Oregon Coast Photography Workshop (physical) - 3 Seats Available
You can learn more about all of these events and register by visiting TheNimblePhotographer.com.
My Favorite Adventure Series - A Small Wedding in Iceland
This idea came out of a group conversation that we had in the Humboldt Redwoods where the guys were interested in some of my big assignments from the past. We kiddingly nicknames these stories, "Back in the Day."
I decided to take them up on their suggestion and run semi-regular spots highlighting really cool photography adventures that I've been lucky enough to experience. Here's another one, the 2006 Photoshop Lightroom Adventure in Iceland.
The iPhone 14 Pro to Have a Much Larger 48MP Main Camera: Report
You can read on Petapixel.com.
The iPhone 14 is reportedly set to receive a camera that has four times as many megapixels as the current version that is expected to be released in less than six months.
According to Mark Gurman at Bloomberg, the iPhone 14 will get the pixel upgrade but the improved camera will only be available on the Pro model of the phone in order to tempt buyers to upgrade to the more expensive model. Gurman has a particularly good record when it comes to Apple rumors and leaks, including most recently correctly predicting the Mac Studio as well as the other products announced during the last Apple hardware event.
Not much more is known about the camera, but the 48-megapixel camera upgrade has been rumored for over a year now and if correct, Apple's 2022 phone will be able to deliver more detailed images.
Virtual Camera Club News
Inner Circle Members: A big thanks to those who support our podcast and our efforts!
My Writing on Medium.com: I now have 51 published articles on Medium.com. And if you haven't visited the site, and enjoy good writing on a variety of topics, I suggest that you may want to take a look. You can just go to the home page and enter "Derrick Story" in the search field. And if you like what you read, then follow me!
The New Donation Kit for Carefree Shipping of Found Film Cameras - If you've discovered a film camera that's no longer being used, our new Donation Kit makes it easy to pack and ship. Just visit the Contact Form on thenimblephotographer.com, click the box next to Donating a Film Camera, and let me know what you have. In your note, be sure to include your shipping address.
Affiliate Links - The links to some products in this podcast contain an affiliate code that credits The Digital Story for any purchases made from B&H Photo and Amazon via that click-through. Depending on the purchase, we may receive some financial compensation.
Red River Paper - And finally, be sure to visit our friends at Red River Paper for all of your inkjet supply needs.
See you next week!
You can share your thoughts at the TDS Facebook page, where I'll post this story for discussion.