This is The Digital Story Podcast #611, Nov. 28, 2017. Today's theme is "The Creative Photographers Gift Guide 2017." I'm Derrick Story.
Opening Monologue
Now that we have survived Black Friday and Cybermonday, we can take a deep breath and consider gift items for their merit as well as their price tag. For today's show I've handpicked 10 items that photographers will love. And I'm going to introduce you to them right now.
The Creative Photographers Gift Guide 2017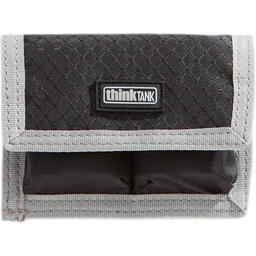 Think Tank Photo DSLR Battery Holder 2 ($10.75) - The DSLR Battery Holder 2 from Think Tank eliminates the hassle of fumbling around through your camera bag searching for that extra battery. When the shot is there and you need power right away, this small, compact and efficient folding holder will help you get back up and shooting in no time. It's lightweight and easily stores in any optional Think Tank bag, pouch or skin. It features hook and loop closure and holds two standard lithium-ion DSLR batteries. For durability, it's made from rugged rip-stop nylon.
Nimble Photographer Fingerless Gloves ($12.99) - Soft, 100 percent acrylic gloves with exposed fingertips enabling you to adjust devices and keep your hands warm. Rubberized dots on the palm side assist with gripping tripods and light stands. High-wrist design ensures that gloves stay within jacket sleeves, even during activity.The Walking Man logo is embroidered on top of each wrist with silver thread providing a classic look.Designed for men's hands, all sizes.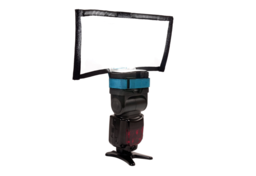 Indigo Marble, Wrap & Protect Electronic Equipment ($20.95) - #1 Premium Medium Camera Cover from Indigo Marble, Wrap & Protect Electronic Equipment, Adjustable & Light Weight to Provide Quick Fit with SLR Straps or Slings, 15" Square with Strong External Pocket.
FlashBender 2 Reflector, Bounce Flash, Snoot, Gobo ($27.96) - The small and lightweight shapeable Flash Bender 2 Small Reflector is ideally suited for on-camera flash event photography. The Small Reflector can also be used off-camera to soften, shape and control your main, background, hair, rim, or accent lights. What's New with Flash Bender 2? New Attachment Design: Flash Bender 2 reflectors use an improved belt and buckle design to provide a faster and more secure attachment to your flash. The integrated attachment strap is adjustable to fit all popular brands of accessory flashes with a circumference measuring from 8" to 9 3/4". New Lighter Weight Reflectors: We developed custom fabrics for the Flash Bender 2 Reflectors to reduce weight and soften highlight reflections. The softer fabrics also allow for increased flexibility and improved light shaping abilities.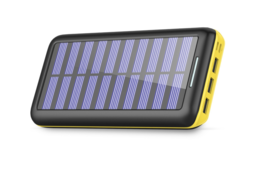 Solar Charger 24000mAh Portable Charger ($39.99) - Lightning and Micro Dual Input - No matter whichever cable you are carrying, you can recharge the power bank with either the attached micro-USB cable or your own lightning cable. Amazing Monster Capacity - Can fully charges an iPhone 10 times, a Samsung Galaxy S7 6 times, a 9.7-inch iPad Pro 2.2 times and other smartphones multiple times. Quick Charging Technology - Auto detects your device to deliver its fastest possible charge speed up to 2.1A. DC 5V/2.1A high-speed input is 2.1 times as fast as normal DC 5V/1A input - a full recharge only takes 11 hours with DC 5V/2.1A charger.
Elvid OptiView 100 3.2" LCD Viewfinder Loupe ($49.95) - The OptiView 100 3.2" LCD Viewfinder Loupe from Elvid is a 1:1 magnifying loupe, which attaches to the back of a camera, over an LCD screen up to 3.2" in size. Because it features multi-coated optical glass, the viewfinder enables you to see your images or videos with better sharpness and contrast. In addition, the rubber eyecup blocks stray or extraneous light, and the viewfinder's built-in diopter can be adjusted +/-3, which allows you to view without glasses.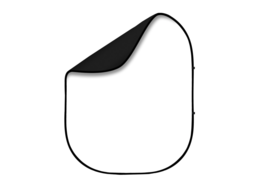 Fovitec StudioPRO - 5' x 6.5' Black/White Double-Sided Pop-Out Muslin Backdrop ($54.95) - The Fovitec StudioPRO pop-out muslin backdrop combines portability and convenience with professional-grade materials and construction. The background is made of high-quality cotton with a matte finish to prevent reflections, and is the staple of every professional and aspiring photographer/videographer.
Finnhomy Professional Portable Photo Studio ($60.99) - 16" Cube Portable Photo Studio, designed for effortless product photography. You can easily take pictures of your item with pure color backdrops. The 5500K daylight white LED bands provide perfect lighting, you can adjust the bands on the steel strips or just place them on the frame bar, the magnets on the back will stick right on!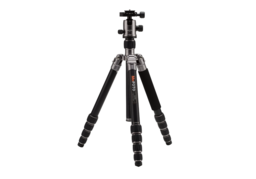 MeFOTO Classic Aluminum Globetrotter Travel Tripod ($172) - The MeFOTO GlobeTrotter is a compact travel tripod that folds up inversely and also turns into a full size monopod without the use of any tools. It's available in Black or Titanium. The GlobeTrotter can be used with many different style cameras including a DSLR with a zoom lens. The GlobeTrotter comes with a dual action Q series ballhead with Arca-Swiss style quick release plate. Carry case with shoulder strap included.
Olympus M.Zuiko Digital 45mm f/1.8 Lens ($199) - Positioned as the perfect portrait prime, the black M.Zuiko Digital 45mm f/1.8 from Olympus is a sleek 90mm equivalent lens for Micro Four Thirds mirrorless cameras. The short-telephoto focal length pairs with a bright f/1.8 maximum aperture to benefit working in low-light conditions and also offers greater control over depth of field for producing selective focus effects. The optical construction of the lens incorporates two extra-high refractive index elements, which help to reduce distortion and spherical aberrations in order to realize notable sharpness and accurate rendering. Additionally, a Movie & Still Compatible (MSC) autofocus system is employed to deliver quick, quiet, and precise focusing performance to suit both video and photo applications.
Videoblocks - Royalty-Free License Agreement
So I've been talking about all of the royalty free content I can download via my Storyblocks account. But you may be thinking, how could I prove that it's OK for me to use this video if I had to? Well, one of the things that Videoblocks provides is a personalized Royalty-Free License Agreement.
In your My Account page, just complete the basic information such as your name and address. Once you've done that, then you can click on the Get License Agreement button. Videoblocks will generate a personalized License Agreement for you and download it to your hard dive. Keep it on file in case you ever need that backup documentation for publishing your movies that contain Videoblocks content.
Over the next few weeks, I'll be your tour guide for this site. But if you need content right now, you can join Videoblocks for $149 a year and gain access to great video, stills, and audio content. This is really a great idea...
New Benefit for TDS Inner Circle Members
Speaking of video:
Starting in December 2017, I have a great new benefit for TDS Inner Circle Members: Nimble Software Series. Each month I will post two training videos for our Inner Circle Members, covering Capture One Pro, Lightroom, Luminar, Photos for mac OS and more. Each video will run between 10 to 30 minutes, and will show you specific techniques for improving your images.
To become an Inner Circle Member, simple pledge $5 or more a month through the TDS Patreon program. Existing Inner Circle members are automatically enrolled in the Nimble Software Series, and receive their first two movies on Friday, December 1, 2017.
We have more benefits coming in 2018 for our Inner Circle Members. Join today and become part of the TDS Elite.
Updates and Such
Big thanks to all of our Patreon members!
B&H and Amazon tiles on www.thedigitalstory. If you click on them first, you're helping to support this podcast. And speaking of supporting this show, and big thanks to our Patreon Inner Circle members.
And finally, be sure to visit our friends at Red River Paper for all of your inkjet supply needs.
Texas-based Red River Paper recently announced a new fine art paper, Palo Duro Etching. The new paper is a 100 percent cotton rag paper and is free of optical brightener additives. The paper is designed to offer warm white tones, deep blacks and a subtle texture to accurately recreate traditional darkroom fine art prints.
See you next week!
More Ways to Participate
Want to share photos and talk with other members in our virtual camera club? Check out our Flickr Public Group. And from those images, I choose the TDS Member Photo of the Day.
Podcast Sponsors
Videoblocks - Go to videoblocks.com/digitalstory to get all the stock video, audio, and images that you can imagine for just $149. Save on millions of studio-quality clips, tracks, and graphics.
Red River Paper - Keep up with the world of inkjet printing, and win free paper, by liking Red River Paper on Facebook.
The Nimbleosity Report
Do you want to keep up with the best content from The Digital Story and The Nimble Photographer? Sign up for The Nimbleosity Report, and receive highlights twice-a-month in a single page newsletter. Be a part of our community!
Want to Comment on this Post?
You can share your thoughts at the TDS Facebook page, where I'll post this story for discussion.