Over the past month I've been testing the Olympus Digital ED 17mm f/1.2 PRO, Digital ED 25mm f/1.2 PRO, and the Digital ED 45mm f/1.2 PRO lenses. Knowing that ultimately I could only afford one, I had to decide which of the trio I was going to invest in.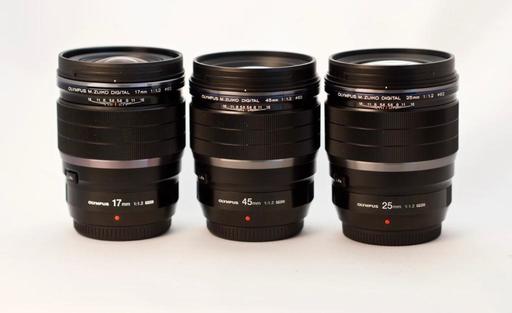 The Trio of Olympus PRO Lenses. Photos by Derrick Story.
The final decision did not come down to performance or quality. All three optics delivered beautiful images. And when I zoomed-in on the RAW files in Capture One Pro, I could not believe how well they held together. Truly impressive.
What it came down to was this: Which optic was more practical for my photography? And after a month of very enjoyable work, the clear winner for me was the Olympus Digital ED 45mm f/1.2 PRO lens.
Leah in the Studio - Olympus 45mm at f/1.2, E-M1 Mark II, ISO 200, processing in Capture One Pro 11. Photo by Derrick Story.
In the end, the 45mm f/1.2 is the pro portrait lens that I've always wanted for my micro four thirds system. It's the right focal length, it doesn't take up too much room in the camera bag, and the images are absolutely beautiful.
Yes, I would love to keep all three optics in the PRO line up. But right now, I can only afford one, and that one will the 45.
You can share your thoughts at the TDS Facebook page, where I'll post this story for discussion.