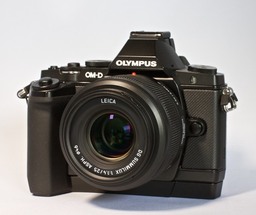 The amazing Olympus OM-D can do just about anything. Figuring out how to program it is another matter all together.
Fortunately, seasoned Micro Four Thirds veteran, Rohith Thumati, has written an excellent "set-up" guide to help you get started. In his post, Setting Up an Olympus OM-D E-M5, he takes you inside the menu system and explains how to activate the Super Control Panel, take control of autofocus, program the buttons, configure the Electronic Viewfinder, and a whole lot more. OM-D owners are going to want to bookmark his post.
A Few Additional Tips
In the year that I've been loving the OM-D, I have a few additional thoughts to share with prospective owners.
Protect the LCD - The touch LCD on the back of the OM-D is beautiful. I recommend that when you first get the camera, buy a quality protector for the LCD. That way you won't have to worry about surface scratches during use. I've used a crystal clear overlay without any problems at all.
Invest in the Power Grip - It's hard to pony up the additional $299 for the Power Battery Holder HLD-6, but it makes such a big difference in performance (two batteries now instead of one) and comfort. When traveling light, you can leave the grip at home. But the rest of the time I leave the grip on and love it. Also, there's an option to tell the OM-D to use the battery in the grip first. That makes changing batteries much easier.
Explore Lens Adapters - It's easy and fun to manual focus via the EVF, and I've had a blast repurposing my Zeiss prime lenses from the old Contax SLR. There are a ton of adapters available. I'm sure there's one that will allow you to repurpose some quality glass that you have stashed in the closet.
---
Take a look at the Olympus Micro Four Thirds Gear Guide for an overview of cameras, lenses, and accessories.
Want to Comment on this Post?
You can share your thoughts at the TDS Facebook page, where I'll post this story for discussion.