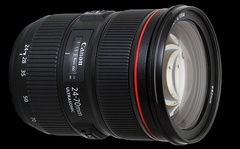 In the case of the Canon EF 24-70mm f/2.8L II USM, you get what you pay for. At least that's the verdict of DP Review in their post, Canon EF 24-70mm f/2.8L II USM review. Bestowing a Gold Award on the $2,100 pro zoom, Andy Westlake writes:
"...quite simply the Canon offers such exceptionally good optics that, if you're after the very best, there's simply no other choice."
Personally, there is much about this lens that I admire. But for my photography, I want image stabilization for that large of an investment.
How do you feel about it? If you want to share your thoughts, I've started a conversation on our TDS Facebook page.
---
Join me on my Instagram site as I explore the world of mobile photography.