This week on The Digital Story Photography Podcast: New Gear Rumors for Photokina, Aperture Update, Photoplus Expo - All of this and more on today's show with Derrick Story.
Story #1 - The Weekly Update: Apple RAW Compatibility Update 5.06 Adds 10 Cameras to Aperture - Even though development of Aperture is paused, its maintenance is ongoing. We get 10 new RAW profiles including the EM-10 and the GH4. (Source: The Digital Story).
In other news, I've accepted a contract gig with Rocky Nook Publications to serve as their Photography Evangelist. Rocky Nook publishes finely crafted books on photography technique.
And finally, I'll be in New York on Oct. 29 through Nov. 2 covering PhotoPlus Expo. And I'll be visiting with attendees in the c't Digital Photography booth. (We'll have giveaways too!)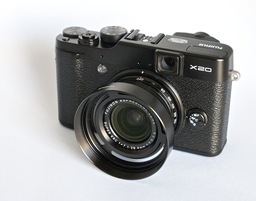 Story #2 - My Favorite New Gear Rumors for Photokina. The list includes releases from Canon, Nikon, Olympus, Fujifilm, and more. I add my comments to a fun post published on www.camyx.com.
Story #3 - From the Screening Room - Up and Running with iPhoto with Derrick Story. The current version of iPhoto has tremendous capability. And it's going to be around for a while, and possibly even after Photos is released. This title includes the features you should know about.
You can watch me in action by visiting the TDS Screening Room at lynda.com/thedigitalstory. While you're there, you can start your 7 day free trial to watch other design, photography, and computing titles, plus every other topic in the library.
Story #4 - Winner! A Free Photo Workshop. So many great suggestions and notes to go along with them. The topic I've settled on as one of the new additions to the 2015 TDS Workshop Lineup is: "Transitioning From Aperture." We'll examine the various options for Aperture users including migrating to Photos, moving to Lightroom, establishing a long term Aperture archive, integrating with iCloud, and more. Thanks to TDS virtual camera club member, Kevin Miller for this topic idea. Kevin will be invited to this workshop, tuition free.
Virtual Camera Club News
The SizzlPix Challenge is Back! (for one month only). Each week the first 10 TheDigitalStory listeners/readers to order SizzlPix from their own favorite images will receive a mini-sample of each SizzlPix prior to production by return mail absolutely free! Just put the words "free sample first" and your mailing address in the comment space of SizzlPix's new simplified order form.
Visit the Red River Paper Card Shop. You can peruse top selling cards, order the card sample kit, and read tutorials on card printing. Save on Ground Shipping for Red River Paper. Use coupon code ground50c to receive a 50 percent discount on UPS ground shipping for Red River Paper. No minimum purchase required.
Photo Assignment for August 2014 is "My Favorite Close-up".
If you haven't done so already, please post a review for The Digital Story Podcast in iTunes.
BTW: If you're ordering through B&H or Amazon, please click on the respective ad tile under the Products header in the box half way down the 2nd column on thedigitalstory.com. That helps support the site.
Download the Show
In addition to subscribing in iTunes, you can also download the podcast file here (34 minutes). You can support this podcast by purchasing the TDS iPhone App for only $2.99 from the Apple App Store.
More Ways to Participate
Want to share photos and talk with other members in our virtual camera club? Check out our Flickr Public Group. And from those images, I choose the TDS Member Photo of the Day.
Podcast Sponsors
lynda.com - Learn lighting, portraiture, Photoshop skills, and more from expert-taught videos at lynda.com/thedigitalstory.
Red River Paper -- Keep up with the world of inkjet printing, and win free paper, by liking Red River Paper on Facebook.
SizzlPix! - High resolution output for your photography. You've never seen your imagery look so good. SizzlPix.com. SizzlPix! now is qualified for PayPal "Bill Me Later," No payments, No interest for up to 6 months, which means, have your SizzlPix! now, and pay nothing until January!
Want to Comment on this Post?
You can share your thoughts at the TDS Facebook page, where I'll post this story for discussion.