This is The Digital Story Podcast #596, August 8, 2017. Today's theme is "It All Starts with the Bag." I'm Derrick Story.
Opening Monologue
When we're in the great outdoors, open space is a thing of beauty. But in our daily lives, it's a rare commodity. Counter tops, desks, closets, and garages tend to be filled to the brim. This tends to hold true for our suitcases, and yes, our camera bags as well. And before you know it, we're lugging around extra pounds that we just don't need. But there is a simple solution, and that's the topic for today's show.
It All Starts with the Bag
A few months ago, I grabbed my work bag on the way out the door and thought to myself, "Man, that's pretty heavy." When I got to work, I emptied its entire contents on my work table and stood there in disbelief. "I'm carrying all of that around with me?" I thought.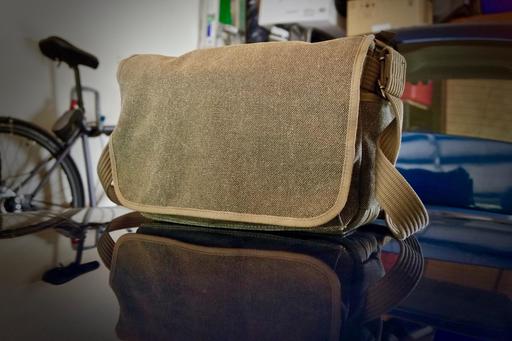 There were too many cameras, too many lenses, extra cables, batteries, card readers, chargers, and more. Looking inside my bag, you would think that I was heading off across the Atlantic, not cross town to my office.
Why was I carrying all of that? Was it left over from my days as a wedding photographer where we needed to have backups for our backups? Maybe. But it was time to slim down. So here's what I did.
It all starts with a smaller bag.
You only need one of each, except batteries.
Tablets and small laptops are just fine for home.
Leave room for temporary items, such as lunch, paperwork, etc. so you don't end up carrying two bags.
Create an organized storage system so you can quickly interchange bag items for different situations.
Innovations such as the Olympus PEN-F and DJI Spark have made all of this much easier. Try your own gear diet and see how you feel.
Advice for Eclipse Newbies
The Atlantic published a helpful article titled, Advice for Eclipse Newbies where they provide some helpful tips for the August 21 event.
"Be sure to bring the appropriate viewing glasses, a pair of glasses for each member of the group. They are pretty cheap and sharing can be problematic in the moment. Just as totality nears, it gets very exciting. Bring additional batteries and cards for the cameras, and a tripod really helps a lot."
Also, B&H Photo has put together an Solar Eclipse Resources Page with links to gear and articles for the big event.
Introducing Cascable 3 "kas-ka-ball" - The Professional WiFi Camera Remote
Unlock the potential of your compatible Canon, Fujifilm, Nikon, Olympus, Panasonic, or Sony WiFi-enabled camera with Cascable. Built for professional and amateur photographers alike, Cascable is the best tool available for working with your camera in the field.
Full control of your camera's exposure settings right at your fingertips. (Free)
Shutter Robot automation tool for Self Timer (Free), Bulb Timer, Intervalometer, and Exposure Bracketing (Upgrade).
Work smart in low-light conditions with an app-wide night theme. (Upgrade)
Put your shutter right on your wrist with the included Apple Watch app. Makes group shots a breeze! (Free)
Download full-resolution images to your iOS device straight from your camera one at a time or in batches. You can download RAW, Jpeg, or RAW+Jpeg. (Upgrade)
Using an neutral density filter? the built-in calculator performs exposure calculations in a snap. Start with initial shutter speed, then set the filter density, and Cascable will then display the recommended shutter speed to those variables. (Free)
Want Sharp Stars (instead of trails)? The Sharp Stars calculator determines the longest shutter speed you can use at night. Set the focal length and sensor size, then read the maximum shutter speed you can use for sharp stars. (Free)
Cascable is available to get started with for free from the iOS App Store. Cascable's Pro features come with a free trial when subscribing from $2 per month, or can also be unlocked with a one-time $29.99 purchase.
We have a tile on all the pages of The Digital Story that takes you directly to the TDS landing page on the Cascable site.
New Subjects Added to The Nimble Classroom
I've trying to figure out a way to bring more personalized training to photographer without them having to travel. It's one thing to get on a plane to photograph wine country or the French Quarter, but not quite as alluring to sit in a classroom for two days.
As a result, I've designed a new approach called, The Nimble Classroom. And now there are four courses for the Summer Session of The Nimble Classroom.
August 19, Catalog Management, Capture One Pro
September 9, Expert Editing, Capture One Pro
September 23, Luminar Pro Techniques
October 7, Photos 3 for macOS
You can learn more about them and sign up for your favorites by visiting The Nimble Classroom online.
Updates and Such
Big thanks to all of our Patreon members!
We still have one spot open for the Autumn in Wine Country Photography Workshop this coming Oct. 26, 27, and 28.
B&H and Amazon tiles on www.thedigitalstory. If you click on them first, you're helping to support this podcast. And speaking of supporting this show, and big thanks to our Patreon Inner Circle members.
And finally, be sure to visit our friends at Red River Paper for all of your inkjet supply needs.
Texas-based Red River Paper recently announced a new fine art paper, Palo Duro Etching. The new paper is a 100 percent cotton rag paper and is free of optical brightener additives. The paper is designed to offer warm white tones, deep blacks and a subtle texture to accurately recreate traditional darkroom fine art prints.
See you next week!
More Ways to Participate
Want to share photos and talk with other members in our virtual camera club? Check out our Flickr Public Group. And from those images, I choose the TDS Member Photo of the Day.
Podcast Sponsors
Cascable - Cascable is the best tool available for working with your camera in the field.
Red River Paper - Keep up with the world of inkjet printing, and win free paper, by liking Red River Paper on Facebook.
The Nimbleosity Report
Do you want to keep up with the best content from The Digital Story and The Nimble Photographer? Sign up for The Nimbleosity Report, and receive highlights twice-a-month in a single page newsletter. Be a part of our community!
Want to Comment on this Post?
You can share your thoughts at the TDS Facebook page, where I'll post this story for discussion.