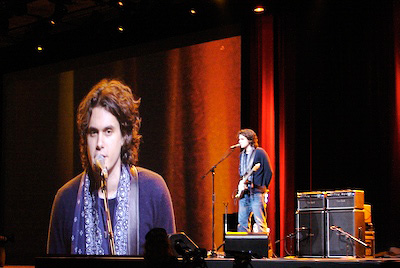 Macworld 2007 was about digital media -- photography, video, and yes, tons of audio. We saw Apple TV officially introduced at the Steve Jobs keynote, a brief solo performance by John Mayer, live podcasts such as MacBreak Weekly and the iLifeZone, and a special podcaster meetup at the Apple Store.
I was participating in many of these events and brought along my trusty Canon Rebel XT to capture a few close-up glimpses. I had a decent seat for the Jobs keynote (being on the conference faculty), and sat-in on the MacBreak show and the podcaster meetup.
I've posted the gallery here with the accompanying metadata for you to enjoy.
Picture: John Mayer performing at the Steve Jobs keynote. Photo by Derrick Story.
Technorati Tags: The Digital Story, Macworld
---
Sponsor Note...
Add Magic to Your Slideshows -- FotoMagico presentations are so amazing that your audience will be asking how you did it.