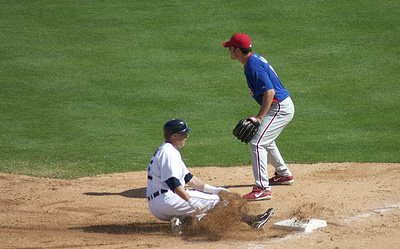 Looking for a sports lens but don't want to spend the $500+ from the name brands? Virtual camera club member Tom Bridge dropped me a note about the $150 Quantaray - 70-300 mm DI f/4-5.6 D for his Canon 10D. Tom took the lens out to the ballpark and captured some great shots from about 20 rows into the bleachers.
Tom said this isn't an image stabilized lens, but it is quite sharp based on his testing. The focusing isn't as fast as a Canon USM zoom, but he was impressed with how quiet the Quantaray was during operation.
With Spring in the air and baseball beckoning to aspiring sports photographers, I thought I'd pass along this tip from a reader.
Technorati Tags: digital photography, The Digital Story