Not long ago, I wrote about the frustrations of connecting our digital cameras directly to a Mac. But new software to the rescue. Cascable Transfer is in beta, and you can use it right now to send Jpegs, RAWs, or both to your macOS computer.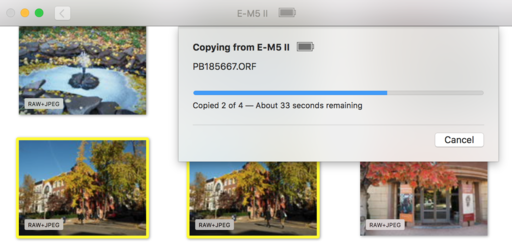 The procedure is simple. Turn on WiFi with your camera, connect to it with your computer, then launch Cascable. If your camera is one that is supported, then the screen soon fills with thumbnails from the memory card.
Choose the shots you want, decide if you want to bring over the RAW, Jpeg, or both, then initiate the copy process. You can send the files to a folder, import to Photos for macOS, or put them inside of Lightroom. I had the best success with folders and Photos. The Lightroom transfer still needs a little work.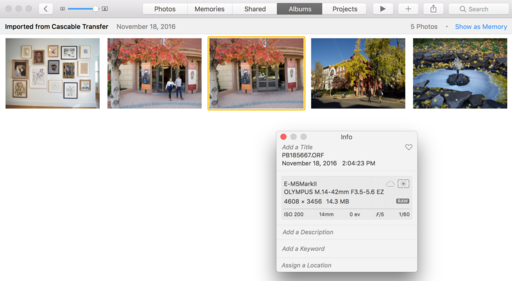 With Photos, my RAW files went right into the app, plus Cascable created an import album too so I can review all the shots that came into the app wirelessly. Everything was intact and looked great.
Because wireless transfer isn't as fast as plugging a memory card directly into the computer, this isn't a method that you'd want to use for hundreds of RAW files. But for a dozen or so images, the 5-6 minute wait time is reasonable.
You can try to beta version of Cascable now for free. And if you preorder your final copy, you can save 50 percent off the $14.99 price when it's released. I'm going to order mine now.
Master Photos for macOS
Apple's Photos for macOS app was designed from the ground up to help you organize, edit, and share your pictures and videos. While the interface appears simple, finding the hidden nuances of Photos is not so straightforward. There's more to this app than initially meets the eye.
For photographers who are more than just casual snapshooters, or who are making the transition from Aperture or iPhoto, The Apple Photos Book for Photographers shines a light on the true sophistication of this app and the ecosystem it taps into. From the point of view of a working photographer, Derrick provides everything you need to know to get the most out of the imaging tools built into macOS and iCloud.
This book is up to date with the current version of Photos that shipped with macOS Sierra. It includes discussions on Memories and object recognition, plus all of the tools that make this a compelling application for Mac-toting photographers.
You can order your own copy directly from the publisher, Rocky Nook. Use coupon code DSAPPLE35 for a 35 percent discount. We recommend the Print & eBook Bundle that gives you the Kindle, iBook, and PDF versions, plus the lovely print edition.
You can also order your copy on Amazon.com
You can share your thoughts at the TDS Facebook page, where I'll post this story for discussion.