This is The Digital Story Podcast #795, June 15, 2021. Today's theme is "The Breathtaking Perspective of Ultra-Wide Lenses." I'm Derrick Story.
Opening Monologue
We all have our favorite optics, and often we begin a photoshoot with our comfortable old friend of lens. But, before you pack up and move on to the next location, I encourage you to break out your widest optic as well. In today's TDS Photography Podcast, I'll tell you why and an easy way to bring ultra wide into you life. I hope you enjoy the show.
Digital Photography Podcast 795
Tune-In Via Your Favorite Podcast App!

---

Apple Podcasts -- Spotify Podcasts -- Stitcher

Podbean Podcasts -- Podbay FM -- Tune In
The Breathtaking Perspective of Ultra-Wide Lenses
Last week, Olympus announced their new Digital ED 8-25mm f/4 PRO Lens ($1,099). At its widest end, this zoom gives you an effective focal length of 16mm. And that's a perspective worth exploring.
Why, you might ask? I'll share a real life example. We had some beautiful clouds this morning in Sonoma County, and I've had my eye on this barn I wanted to photograph when the conditions were right. Today was that day.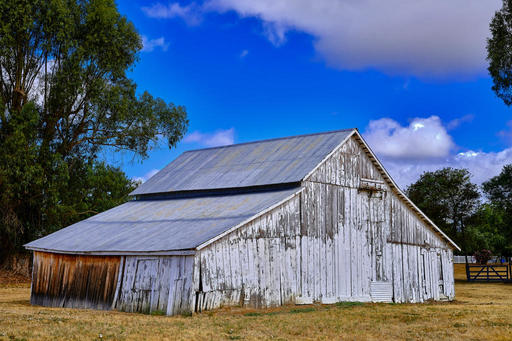 Fujifilm GFX 100S with GF 50mm lens. Photos by Derrick Story.
So I dashed out the door with the Fujifilm GFX 100s with the GF 50mm lens and my iPhone in my pocket.
After about 15 minutes of intense photography, I took a deep breath knowing that I had captured some frames that I was going to really like. The 40mm equivalent of the GF 50mm was a comfortable focal length for composition. And with the great lighting and active sky, I was feeling a definite "mission accomplished" sense of well being.
But before I left the site to return to the studio, I pulled out my iPhone 12 Pro Max and fired up the Ultra Wide camera. It has an equivalent focal length of 13mm, and I thought I might be able to capture something wonderful with it as well.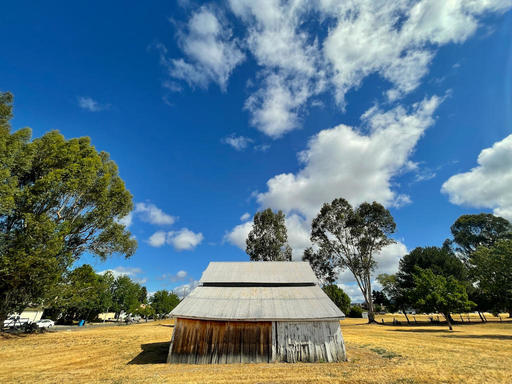 The Ultra-Wide Camera on an iPhone 12 Pro Max.
After reviewing the entire shoot on my MacBook Pro, I was indeed happy with the Fujifilm shots. But my eye kept wandering back to the two ultra wides I had captured as well. I opened up my favorite of the two and spent a couple minutes enhancing it. And lo and behold, I sprang to life.
So much so, it's my favorite of the shoot. That is the breathtaking perspective of an ultra wide lens.
So, what do I look for in these optics? Three things:
A focal length of at least 20mm.
Size that is compact enough to always have with me.
I prefer that it not be a fisheye, but I don't rule those out either. In other words, I prefer rectilinear and distortion mild.
Before I had the iPhone 12, I carried the Olympus Fisheye Body Cap 9mm f/8 Lens ($99). Even though it's a fisheye, I used that rendering to my advantage and have come away with some wonderful images over the years.
I also have the Samyang 7.5mm f/3.5 UMC Fisheye MFT Lens ($229). It's a very nice manual focusing lens for MFT that provides a very wide perspective.
So dig around in your lens stash and retrieve the widest optic that you have available. On your next shoot, pull it out, try to keep the subject plane and camera plane parallel, and add an entirely new perspective to the shoot.
You just may find the results: breathtaking!
Venus Optics' new $549 7.5mm F2 MFT lens now has electronic aperture control
You can read the entire article on DP Review.
Venus Optics has announced an updated version of its Laowa 7.5mm F2 Micro Four Thirds (MFT) lens that has electronic aperture control and an onboard chip for transferring metadata from the lens to the camera.
As for dimensions, the lens comes in at 3mm (.12") larger in diameter and 7mm shorter (.28") than the manual version. Also, despite adding the electronic aperture control and onboard CPU chip, Venus Optics managed to reduce the lens' weight to 150g (5.3oz), down from the 170g (6oz) weight of the manual version.
The Laowa 7.5mm F2 lens with electronic aperture control is available to order on Venus Optics' website for $549. You can view a gallery of full-sized sample images on Venus Optics' Flickr album.
New Release: Capture One Pro 21 Essential Training
Capture One Pro is a complete digital photo management and editing application for professional photographers and serious enthusiasts. Photographers who appreciate outstanding RAW processing, expert color control, and logical organization should consider Capture One Pro for its comprehensive feature set. In this course, professional photographer and instructor Derrick Story helps you learn the basics quickly, then takes you deeper into the application to master its finer points. For seasoned users, Derrick also covers all the new features in version 21, including Speed Edit, the Dehaze slider, and Style Brushes that allow you to enhance specific areas of a photo. To wrap up, he shares tips and techniques that can help you ensure your workflow is as efficient as possible.
You can check it out now by visiting LinkedIn Learning.
The New Donation Kit for Carefree Shipping of Found Film Cameras
Greg Croasdill recently wrote me this: "My father-in-law passed away recently and I would like to donate his film cameras to the Film Camera Shop. I've heard you speak of this for years on your podcast and now finally I have some good equipment to send you way."
If you've discovered a film camera that's no longer being used, our new Donation Kit makes it easy to pack and ship. Just visit the Contact Form on thenimblephotographer.com, click the box next to Donating a Film Camera, and let me know what you have. In your note, be sure to include your shipping address.
If it's a camera we can use for the shop, I'll send you a Donation Kit that includes a USPS Priority Mail shipping box and prepaid label. All you have to do is tape it up, insert the camera, and add the label. USPS will pick up your shipment from the front door of your house during their regular mail delivery. It's that simple!
Your donation help get analog gear in the hands of aspiring fine art photographers, and the proceeds help support this podcast.
Virtual Camera Club News
0 Seats Remaining for Our Ultimate B&W Photography Workshop - July 2021.
Inner Circle Members: A big thanks to those who support our podcast and our efforts! (And welcome to our new members.)
My Writing on Medium.com: I now have more than 25 published articles on Medium.com. And if you haven't visited the site, and enjoy good writing on a variety of topics, I suggest that you may want to take a look. You can just go to the home page and enter "Derrick Story" in the search field. And if you like what you read, then follow me!
EV Explorers for Those Who Are Interested in Electric Cars: I've created a new group on DerrickStoryOnline titled EV Explorers. The tagline for this group is: "Bringing Curiosity and Nimbleosity to the World of Electric Vehicle Transportation." Here we can share information, tips, discoveries and more about using electric vehicles for our photography adventures. If you want to join this group, click on this link for an invite. We're going to keep this as a private group for now, but you are invited to join us.
Affiliate Links - The links to some products in this podcast contain an affiliate code that credits The Digital Story for any purchases made from B&H Photo and Amazon via that click-through. Depending on the purchase, we may receive some financial compensation.
And finally, be sure to visit our friends at Red River Paper for all of your inkjet supply needs.
See you next week!
Product Links and Comments
There are product links in this article that contain affiliate tags. In some cases, depending on the product, The Digital Story may receive compensation if you purchase a product via one of those links. There is no additional cost to you.
You can share your thoughts at the TDS Facebook page, where I'll post this story for discussion.